Fresh Pumpkin Pie
A Mouthwatering Recipe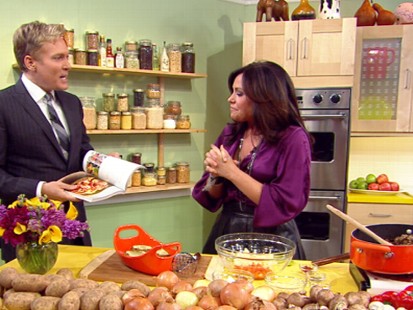 Rachael Ray prepares shepherd's pie-stuffed potatoes.
From the kitchen of IrishCentral.com
Here's an easy and delicious recipe for pumpkin pie. The secret ingredient is molasses! It creates a wonderfully smooth, thick filling with a richer taste. This pumpkin pie recipe is truly old-fashioned homemade goodness in every bite.
For more great Irish food and drink articles,click here.
Ingredients
1 pastry crust
2 large eggs
3/4 cup milk
1 1/4 cups fresh pumpkin puree (instructions below)
2 Tbsps unsalted butter, melted
1/2 cup sugar
1 Tbsp dark molasses
1/2 tsp ground cinnamon
1/2 tsp ground ginger
1/8 teaspoon ground cloves
Pinch salt
1 cup heavy cream, cold
Cooking Directions
Preheat oven to 350 degrees F. Heat milk in saucepan over medium heat until it just starts to bubble around the edges. Remove from heat. Beat eggs lightly in large bowl until frothy. Add scalded milk, stirring constantly. Stir in pumpkin, butter, sugar, molasses, cinnamon, ginger and salt. Whisk until thoroughly blended. Pour filling into prepared crust, bake until center is firm, about 45 minutes. Cool completely on wire rack. When ready to serve, beat chilled cream with mixer until soft peaks form. Serve on top of pie or in a separate bowl for individual serving.
Recipe Summary
Main Ingredients: egg, pumpkin, molasses
Course: Dessert