Home
>
GMA
>
Emeril Lagasse's Fried Chicken and Buttermilk Waffles with Black Pepper Maple Syrup and Whipped Vanilla Butter
Emeril Lagasse's Fried Chicken and Buttermilk Waffles with Black Pepper Maple Syrup and Whipped Vanilla Butter
Recipe Makeover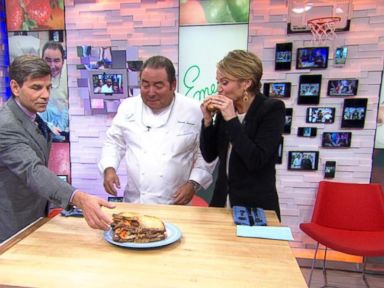 Viewers send pictures of their leftovers and get advice from Emeril Lagasse.
From the kitchen of Emeril Lagasse
Recipe fatigue is a common epidemic that infects every kitchen from time to time. Luckily, celebrity chef Emeril Lagasse has just the cure. He turned smothered waffles more gourmet with his version below of Fried Chicken and Buttermilk Waffles with Black Pepper Maple Syrup and Whipped Vanilla Butter.
Ingredients
Fried Chicken
1 1/2 cups well-shaken buttermilk
1/4 cup Crystal hot sauce or other Louisiana red hot sauce
11/2 tablespoons sugar
1 tablespoon plus 1 teaspoon salt
1 tablespoon sweet paprika
3 cloves garlic, smashed
One 31/2-pound chicken, cut into 8 pieces
2 cups all-purpose flour
3 to 4 cups vegetable oil, for frying
Buttermilk Waffles
1 3/4 cups cake flour
3 tablespoons sugar
2 tablespoons yellow cornmeal
1/2 teaspoon baking soda
1/2 teaspoon salt
2 cups well-shaken buttermilk
2 eggs
1/2 teaspoon vanilla extract
8 tablespoons (1 stick) butter, melted
Whipped Vanilla Butter
One 1-inch piece of vanilla bean
12 tablespoons (11/2 sticks) unsalted butter, at room temperature
1/8 teaspoon salt
Black Pepper Maple Syrup
1 1/2 cups grade-A dark amber maple syrup
1/2 teaspoon freshly ground black pepper
2 tablespoons Crystal hot sauce
One 1-inch scraped vanilla bean pod (from making Whipped Vanilla Butter)
Cooking Directions
Fried Chicken
In a small bowl, whisk together the buttermilk, hot sauce, sugar, the 1 tablespoon salt, and the paprika. Add the garlic. Transfer this mixture to a gallon-size resealable plastic food storage bag. Add the chicken pieces to the bag, seal, and refrigerate. Allow the chicken to marinate overnight, turning the bag occasionally to ensure that the chicken is evenly marinated.
Place a wire rack on a baking sheet, and set it aside. In a medium-size bowl, combine the flour with the remaining 1 teaspoon salt.
Remove the chicken pieces from the marinade, allowing the excess to drain off, and then dredge them in the flour. Set the coated pieces on the wire rack.
Pour oil to a depth of 1 inch in a 10-inch cast-iron skillet. Heat the oil over high heat to 350°F. (Use a deep-fry/candy thermometer for accuracy.)
Fry the chicken, in batches, until golden brown and cooked through, 6 to 8 minutes per side; the chicken should register 165°F on an instant-read thermometer. As you are cooking, be mindful of the temperature of your oil and regulate the heat as necessary. You do not want the temperature of the oil to drop below 325° or to go above 350°F. As the pieces are cooked, transfer them to a paper towel–lined platter.
Serve the chicken hot, with the (below) Buttermilk Waffles, Black Pepper Maple Syrup and Whipped Vanilla Butter.
Buttermilk Waffles
Combine the flour, sugar, cornmeal, baking soda, and salt in a medium mixing bowl. In a second medium bowl, whisk together the buttermilk, eggs, and vanilla. Add the wet ingredients to the dry, and mix until thoroughly combined. Whisk in the melted butter. (The batter can be prepared ahead and refrigerated overnight.)
Heat an oiled waffle iron. Pour the appropriate amount of batter (according to the size of your waffle
iron) onto the hot griddle, and cook until crisped and golden brown to your liking. Transfer the waffle to a serving plate and repeat with the remaining batter.
Whipped Vanilla Butter
Cut the vanilla bean in half lengthwise and scrape the seeds into a small bowl. Reserve the scraped pod for the Black Pepper Maple Syrup. Add the butter and salt to the bowl, and whip with a handheld electric mixer until light and fluffy.
Transfer the butter to a small container, cover, and refrigerate until ready to use.
Black Pepper Maple Syrup
Combine all the ingredients in a small saucepan and bring to a boil. Remove from the heat and allow the flavors to steep until ready to serve. Remove the vanilla bean before serving if desired.
Recipe courtesy Emeril Lagasse, from Farm to Fork: Cooking Local, Cooking Fresh, Harper Collins Publisher, New York, 2010, copyright MSLO, Inc., all rights reserved. Styled by Karen Pickus for Good Morning America.
Recipe Summary
Main Ingredients: chicken, flour, maple syrup, butter
Course: Breakfast