Federal Donuts' Fried Chicken and Sauce
Fry It Up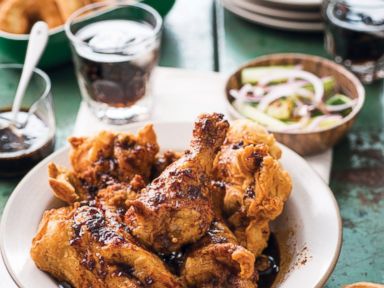 From the kitchen of Federal Donuts
Philly sweets shop Federal Donuts' most popular dish is their fried chicken and donuts. Check out their famous fried chicken recipe below and learn more about how they're putting their leftovers to work to give back to the community. The shop is raising funds on Kickstarter for a philanthropic chicken soup restaurant whose proceeds would go to Broad Street Hospitality Collaborative to feed Philadelphia's hungry. Get more information on the project here.
Ingredients
For the Chicken:
1 whole chicken, cut into 8 pieces
Kosher salt for seasoning, plus 1 tablespoon
Vegetable or canola oil for frying
2 cups cornstarch
1 cup all-purpose flour
1 and 3/4 cups water
For the Sauce:
1/4 cup chili-garlic sauce, such as Huy Fong brand
1/4 cup soy sauce
3/4 cup kecap manis (Malaysian sweet soy sauce, available at Asian grocers or online)
3 Tbsp. apple cider vinegar
Cake donuts and Asian pickles, for serving
Cooking Directions
Salt the Chicken: The night before cooking the chicken, liberally season the pieces with kosher salt and arrange in a single layer on a rimmed baking sheet. Refrigerate overnight, loosely covered with parchment paper.
Make the Sauce: In a small bowl, combine the chili-garlic sauce, soy sauce, kecap manis, and vinegar.
Fry the Chicken: Fill a large (at least 8-quart) pot halfway with oil and heat to 300 degrees F. Set a baking rack on top of a rimmed baking sheet and set aside. In a large bowl, whisk together the cornstarch and flour and 1 tablespoon salt, then whisk in 1 and 3/4 cups water to make a crepelike batter, adding water by the tablespoonful if the batter feels too thick. Dip the chicken pieces into the batter, shaking off the excess, and fry in batches until the chicken is golden, 12 to 13 minutes.
Twice-Fry the Chicken: Drain the chicken on the prepared rack and increase the oil temperature to 350 degrees F. Fry the chicken until it is crisp and the color deepens, an additional 5 minutes. Let the chicken cool for 2 to 3 minutes on the rack, then coat the chicken liberally with the sauce (or serve with the sauce on the side.) Serve with cake donuts and pickles.
From page 151 of "Fried and True: More than 50 Recipes for America's Best Chicken and Sides" by Lee Brian Schrager and Adeena Sussman; Clarkson Potter. Recipe by Michael Solomonov.
Recipe Summary
Main Ingredients: chicken, flour, chili-garlic sauce, soy sauce
Course: Main Course