Fried Green Tomato BLTs
Cornmeal-Crusted and Delicious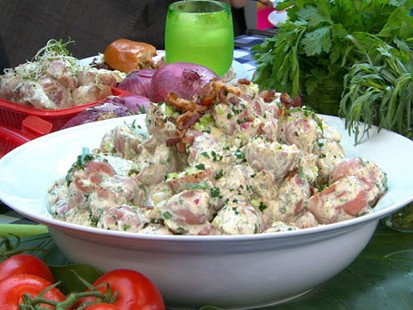 Food and Wine magazine editor makes potato salad with bacon and BBQ sauce.
From the kitchen of Food & Wine
"This is a brilliant marriage of two classics: cornmeal-dusted green tomatoes and a bacon, lettuce and tomato sandwich."
Check out more perfect picnic recipes from Food & Wine.
Ingredients
4 slices of bacon
1/2 cup all-purpose flour
1 large egg beaten with 1 tablespoon of water
1/2 cup yellow cornmeal
Salt and freshly ground pepper
1 pound unripe green tomatoes or large tomatillos, cut into 1/2-inch slices
Canola oil
8 thick-cut slices of whole wheat or multigrain bread, toasted
Low-fat mayonnaise and baby arugula, for assembling
Cooking Directions
Preheat the oven to 400° and line a rimmed baking sheet with foil. Arrange the bacon on the foil and bake for about 15 minutes, until crispy. Drain the bacon and cut in half.
Meanwhile, put the flour, egg mixture and cornmeal in 3 shallow bowls. Season the cornmeal generously with salt and pepper. Dip the tomato slices in the flour, then in the egg and finally in the cornmeal, pressing to help it adhere.
Transfer the slices to a wax paper–lined platter.
In a very large skillet, heat 1/4 inch of canola oil until shimmering. Add the tomatoes and cook over moderately high heat, turning once, until golden and crisp, 5 minutes. Drain the tomatoes on paper towels.
Lay 4 slices of toast on a work surface and lightly spread with mayonnaise. Top with the green tomatoes, bacon and arugula. Close the sandwiches, cut in half and serve.
Recipe courtesy Food & Wine.
Recipe Summary
Main Ingredients: cornmeal, bread, bacon
Course: Lunch
More Info: Kid Friendly