Gail Simmons' Potato Gnocchi with Butter and Cheese
Make Ahead, Freeze For Later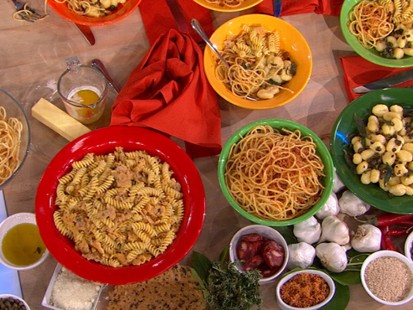 Food and Wine magazine's Gail Simmons prepares various toppings for pasta.
From the kitchen of Food & Wine
Make Ahead:
The uncooked gnocchi pieces can be frozen on the prepared baking sheet, then transferred to a resealable plastic bag and frozen for up to 1 month. Boil without defrosting.
Ingredients
2 pounds baking potatoes (about 4)
2 large egg yolks
Salt
1/2 cup all-purpose flour, plus more for dusting
4 tablespoons unsalted butter
Freshly ground black pepper
Freshly grated Parmigiano-Reggiano cheese
Cooking Directions
Preheat the oven to 400°. Pierce the potatoes all over with a fork. Bake in a microwave oven at high power for 10 minutes, then flip the potatoes and microwave for 5 minutes longer. Transfer the potatoes to the oven and bake for 15 minutes. Alternatively, bake the potatoes in the oven for about 1 hour, until tender.
Halve the potatoes. Scoop the flesh into a ricer and rice the potatoes. Transfer 2 slightly packed cups of riced potatoes to a bowl. Stir in the egg yolks and 1 teaspoon of salt. Add the 1/2 cup of flour; stir until a stiff dough forms. Knead the dough gently until smooth but slightly sticky.
Line a baking sheet with wax paper and dust with flour. On a floured surface, cut the dough into 4 pieces, rolling each into a 3/4-inch-thick rope. Cut the ropes into 3/4-inch pieces. Roll each piece against the tines of a fork to make ridges; transfer to the baking sheet.
In a large, deep skillet of simmering salted water, cook the gnocchi until they rise to the surface, then simmer for 2 minutes longer. In a large nonstick skillet, melt the butter. Using a slotted spoon, add the gnocchi to the butter. Season with salt and pepper and cook over high heat for 1 minute. Sprinkle with the cheese and serve.
Recipe courtesy Food & Wine.
This recipe was styled by chef Karen Pickus for Good Morning America.
Recipe Summary
Main Ingredients: potatoes, eggs, salt, pepper
Course: Pasta