Gingerbread Cupcakes with Cinnamon Cream Cheese Frosting
From Georgetown Cupcake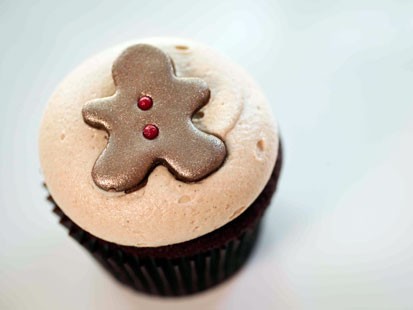 From the kitchen of Georgetown Cupcake
Try this gingerbread cupcake recipe from Georgetown Cupcake. The popular chain has expanded to New York and Boston.
Ingredients
For the cupcakes:
2 ¾ cups all-purpose flour
3 tablespoons ground ginger
2 teaspoons baking soda
1 ½ teaspoons ground cinnamon
½ teaspoon ground cloves
½ teaspoon ground nutmeg
¼ teaspoon salt
10 tablespoons unsalted butter, at room temperature
1 cup packed dark brown sugar
3 large eggs, at room temperature
1 ¼ cups molasses
1 cup hot water
For the cinnamon cream cheese frosting:
4 tablespoons unsalted butter, at room temperature
4 cups confectioners' sugar, sifted
¼ teaspoon pure vanilla extract
6 ounces cream cheese, at room temperature
2 teaspoons ground cinnamon
For the gingerbread man fondant decoration:
1 cup of brown fondant
24 red candy balls
1 mini gingerbread man cookie cutter
Cooking Directions
Preheat the oven to 350°F. Line a standard cupcake pan with twelve paper baking
cups, or grease the pan with butter if not using baking cups.
Sift together the dry ingredients, except for the brown sugar, and set aside. (We
like to sift on a piece of parchment paper or wax paper so we can easily pick it up and and pour it into our mixer, little by little.
Cream together butter and brown sugar in the bowl of a stand mixer or in a bowl
with a handheld electric mixer on high speed, 3 to 5 minutes, or until light and fluffy. Add the eggs one at a time, beating slowly after each addition. Add the molasses, mixing until well incorporated.
Add one third of the dry ingredients and one third of the water and mix thoroughly. Repeat. Stop to scrape down the bowl as needed. Add the last third of the dry ingredients and one third of the water, and mix thoroughly.
Scoop the batter into the cupcake pan using a standard-size ice-cream scoop.
Bake at 350ºF for 16 to 18 minutes (start checking at 15 minutes) or until a toothpick comes out clean. Transfer the pan to a wire rack to cool completely.
For the frosting:
Place all ingredients in the bowl of an electric mixer fitted with the paddle attachment; beat until well combined. Frost cupcakes using Georgetown Cupcake's signature swirl. We decorate our Gingerbread cupcakes with fondant gingerbread men with red candy buttons. You can use a mini gingerbread man cookie cutter and cut out fondant gingerbread men to place on top of your cupcakes to give them an extra- special festive touch!
For the gingerbread men decorations:
Using a rolling pin, roll brown fondant out to the thickness of ¼ inch. Cut out gingerbread men using a gingerbread man-shaped mini cookie cutter. Gently press in the red candy balls, one above another, on the gingerbread man's tummy. Place each gingerbread man on each cupcake.
Serve and enjoy!
Recipe courtesy Georgetown Cupcake.
Recipe Summary
Main Ingredients: flour, ginger, butter, confectioner's sugar, cream cheese
Course: Dessert