Gingerbread Mini Cakes
Canned pumpkin purée allows you to use less fat in this recipe, yielding moist, tender little cakes that are better for you.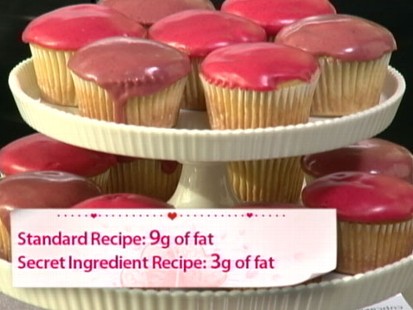 Sarah Carey bakes vanilla cupcakes, chocolate brownies and gingerbread cakes.
From the kitchen of Everday Food Magazine
Makes 18
These mini cakes are a are a great valentines day treat. The pumpkin puree replaces some of the butter, so they are delicious without all of the fat.
Ingredients
¼ cup (½ stick) unsalted butter, room temperature, plus more for muffin cups
2 1/3 cups all-purpose flour (spooned and leveled), plus more for muffin cups
2 teaspoons baking powder
1 teaspoon baking soda
1 teaspoon ground ginger
½ teaspoon ground allspice
½ teaspoon ground cinnamon
¼ teaspoon ground cloves
½ teaspoon fine salt
¾ cup granulated sugar
1 cup pure pumpkin purée
½ cup unsulfured molasses
2 large eggs, lightly beaten
½ cup buttermilk
1 cup confectioners' sugar, sifted
Cooking Directions
1. Preheat oven to 350°. Butter and flour 18 standard muffin cups. In a large bowl, whisk together flour, baking powder, baking soda, ginger, allspice, cinnamon, cloves, and salt. In a medium bowl, beat granulated sugar and butter with a wooden spoon, until light and fluffy, about 3 minutes. Whisk in pumpkin purée until smooth, then whisk in molasses, eggs, and buttermilk. Add to flour mixture in 3 additions, stirring well to combine.
2. Divide batter among muffin cups. Bake until puffed and set, 35 minutes, rotating pans halfway through. Let cool completely in pans on wire racks.
3. Whisk together confectioners' sugar and 2 tablespoons water. Spoon over muffins and let glaze set, about 15 minutes, before serving. (Refrigerate in an airtight container, up to 1 week.)
Makes 18
Per cake: 182 cal; 3 g fat (2 g sat fat); 3 g protein;36 g carb; 1 g fiber
Recipe Summary
Main Ingredients: butter, eggs, floud, ginger, allspice, cinnamon, sugar, pumpkin puree
Course: Dessert
More Info: Low Fat, Low Saturated Fat