Emeril Lagasse's Gingerbread Pancakes
Heavenly Holiday Breakfast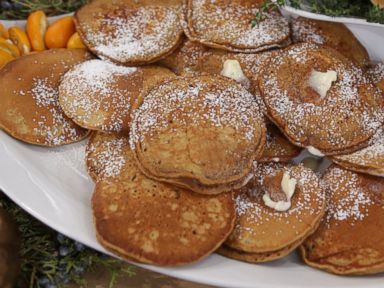 From the kitchen of Emeril Lagasse
|
Christmas morning can get busy between gift opening and testing, but don't let breakfast be an afterthought. Celebrity chef Emeril Lagasse shared his kicked-up holiday breakfast recipes on "Good Morning America" to make your holiday as delicious as possible. Try his recipe for Gingerbread Pancakes below and turn your morning meal into the star of the show.
Ingredients
2 cups all-purpose flour
3 tablespoons dark brown sugar
2 ½ teaspoons baking powder
1 tablespoon ground ginger
1 teaspoon ground all spice
1 teaspoon salt
1 ¾ cups whole milk
½ cup molasses
2 large eggs
¼ cup melted salted butter, plus more for greasing
Cooking Directions
Preheat the oven to 200 degrees F.
In a medium-sized mixing bowl, combine the flour, sugar, baking powder, ginger, all spice, and salt; in another bowl, whisk together the milk, molasses, eggs and ¼ cup of melted butter. Whisk milk mixture into flour mixture just until combined; don't worry about remaining clumps. Let the batter sit for about 10 minutes.
Heat a large nonstick pan over medium heat. Grease the pan with a paper towel moistened with a small amount of melted butter. Using ¼ cup batter for each pancake, spoon into skillet and smooth to make a round. Cook until surface of pancakes has formed bubbles and some have burst, about 2 minutes. Flip pancakes with a spatula and cook until browned on underside, 2 minutes more.
Transfer the pancakes to an oven-proof plate or baking sheet and cover loosely with foil. Transfer to the oven to keep warm. Repeat with the remaining batter, greasing the pan with melted butter each time. Serve with a pat of butter and maple syrup.
Recipe courtesy Emeril Lagasse, courtesy Martha Stewart Living Omnimedia, Inc.
This recipe was styled by chef Karen Pickus for Good Morning America.
Other Recipes That You Might Like