The Domestic Rebel's Glazed Donut Pie
Crazy Dessert Mash-Up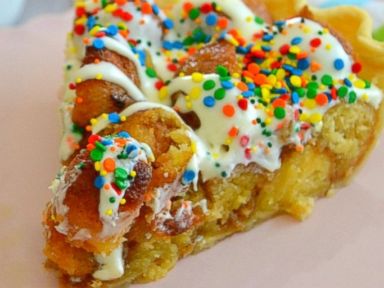 From the kitchen of The Domestic Rebel
Donut pie. Pumpkin pie cupcakes. Cookie dough brownie bombs. Those are just a sampling of the innovative research going on over at the blog "The Domestic Rebel," where Hayley Parker acts out all of her crazy dessert whims. Check out her recipe below for glazed donut pie, and click here to find out how you can come up with similarly insanely delicious creations.
Ingredients
2 dozen glazed cake donut holes
1 refrigerated pie crust, room temperature
1 stick butter, melted
1/4 cup brown sugar
Pinch cinnamon
Pinch nutmeg
2 eggs, beaten
3 teaspoons vanilla extract, divided
4 cups powdered sugar
1 tablespoon milk
Sprinkles
Cooking Directions
Preheat oven to 350 degrees F. Lightly spray a 9" pie plate with cooking spray. Press the pie crust gently into the pan and crimp the edges as desired.
Halve the donut holes and fill the pie crust with the donut holes in an even layer; set aside. Meanwhile, in a medium bowl, combine the melted butter, brown sugar, cinnamon, nutmeg, eggs and one teaspoon of the vanilla. Pour the mixture evenly over the donut holes to coat.
Bake the pie for approximately 30 to 35 minutes or until golden brown and bubbly. I highly recommend using a pie shield or tenting the crust of the pie to prevent burning and overbaking too quickly. Allow the pie to cool completely.
In a medium bowl, combine the remaining two teaspoons of vanilla, powdered sugar and milk; vigorously stir to combine. Drizzle the icing on top of the pie and immediately garnish with sprinkles. Cut into slices and serve room temperature or warmed up.
Recipe Summary
Main Ingredients: glazed cake donut holes, refrigerated pie crust, sprinkles
Course: Dessert