'GMA' Cookie Search: How to Make Maple Crisps
Learn step-by-step how to make this festive holiday treat.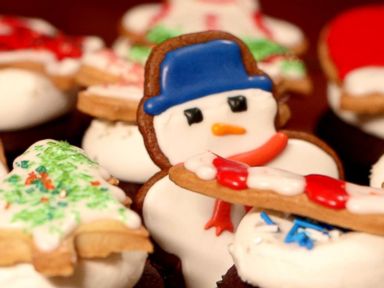 Learn step-by-step how to make this festive holiday treat from chef David Burke.
From the kitchen of David Burke
It's the whimsical culinary creation of celebrated chef David Burke and ABC News' "Good Morning America" went inside the kitchen at his newest New York City restaurant, Tavern 62, and learned how to make maple crisps for the holidays.
"GMA" is showcasing the ultimate cookie recipes from viewers and pros across the country in a special cookie countdown to Christmas. If you're looking to mix things up this holiday season, Burke's crisps fits the bill.
Watch the step-by-step video above to learn how to make the treat yourself at home and get all recipe details below. Plus, viewers have shared their family cookie traditions with "GMA," from gingerbread recipe passed down for generations to cookies made with a secret ingredient like candy bars inside.
Click here for the featured recipes.
Ingredients
Yields about 50 cookies
4 tablespoons butter
½ cup confectioners' sugar
2 egg whites
2 tablespoons maple syrup
1 cup plus 2 tablespoons all-purpose flour, sifted
Cooking Directions
1. Cream butter and sugar together in an electric mixer, or mix in a bowl by hand. Add egg whites and maple syrup gradually. Gradually add flour, and continue mixing until ingredients are just combined.
2. Chill cookie mixture in refrigerator for 2 hours before using.
3. Preheat oven to 350 degrees.
4. Using a small spatula or palette knife, spread a thin layer of cookie mixture on a baking sheet with a nonstick surface. If you wish, cookie dough can be formed by pressing into molds or stencils before baking. Bake until brown and crisp, about 5 to 8 minutes.
5. While sheet of cookies is warm, cut into desired shapes – squares, rectangles, or an abstract design – or, when it is chilled, break into pieces
Reprinted with permission of chef David Burke for "Good Morning America."
Do you have an original holiday cookie recipe that your family and friends devour? Click HERE to share your recipe!
Recipe Summary
Main Ingredients: butter, sugar, egg whites. maple syrup
Course: Dessert