'GMA' Lunch Break: Ellen Bennett's Multi-Orange Juice
Try this fresh squeezed orange juice blend!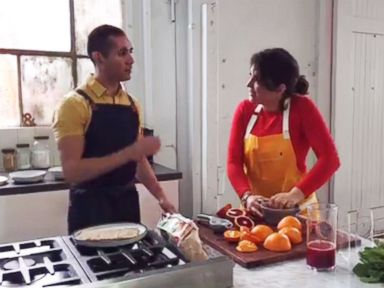 Ellen Bennett, the founder of Hedley and Bennett, shared California cuisine lunch recipes with "GMA" at the Apron Factory in Los Angeles.
From the kitchen of Ellen Bennett
"GMA" caught up with Ellen Bennett, the founder of apron company Hedley and Bennett, for lunch in Los Angeles. Try this refreshing orange juice blend, one of Ellen's favorites.
Watch the "GMA" Lunch Break live stream on ABCNews.com/live and the GMA Facebook page every Monday, Wednesday and Friday at 12:30 p.m. ET.
Ingredients
2 tangelo oranges
2 tangerines
2 navel oranges
2 cara cara oranges
Cooking Directions
Cut oranges in half and using a hand-held citrus juicer, squeeze juice into a mason jar.
Shake or stir and enjoy!
Recipe Summary
Main Ingredients: oranges, tangerines, cara cara oranges
Course: Drinks