'GMA' lunch break: Chef Michael Anthony's Goldie's Coleslaw recipe
Try This Tasty Side Dish!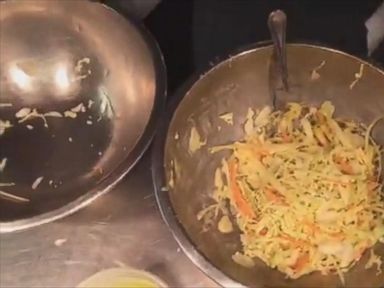 Gramercy Tavern chef Michael Anthony shows ABC News' Jesse Palmer how to make Goldie's Coleslaw from Anthony's "V Is for Vegetables" cookbook.
From the kitchen of Michael Anthony
"GMA" caught up with chef Michael Anthony, the executive chef at Gramercy Tavern, for lunch in New York City. Try Anthony's recipe for Goldie's Coleslaw from his cookbook, "V Is for Vegetables."
Watch the "GMA" Lunch Break live stream on ABCNews.com/live and the GMA Facebook page every Monday, Wednesday and Friday at 12:30 p.m. ET.
Ingredients
Ingredients for the mayonnaise:
2 egg yolks
1/2 tablespoon Dijon mustard
Salt and pepper
1/2 cup olive oil
1/4 cup peanut or grapeseed oil
2 tablespoons red wine vinegar
Fresh lemon juice
Ingredients for the slaw:
1 medium head cabbage, quartered and thinly sliced
3 carrots, thinly sliced
1 small onion, thinly sliced
1 clove garlic, minced
Handful fresh flat-leaf parsley, chopped
1 tablespoon red wine vinegar
Fresh lemon juice
Salt and pepper
Cooking Directions
To make the mayonnaise, secure a medium bowl by placing it in a towel-lined heavy pot just big enough to hold it firmly.
Combine the yolks and mustard in the bowl, add salt and pepper, and whisk until smooth.
Add the olive oil drop by drop while whisking continuously; as the oil incorporates, it forms a nice emulsified mayonnaise.
After you've whisked in all the olive oil, slowly whisk in the peanut or grapeseed oil, then add the vinegar and a squeeze of lemon juice.
You can make the mayonnaise in a food processor, but for more control, do it by hand, especially for a small amount.
Combine the cabbage, carrots, onions, garlic, and parsley in a large bowl.
Add the mayonnaise little by little until the slaw is as creamy as you like it.
Season the vinegar and lemon juice, and add salt and pepper.
Recipe courtesy Michael Anthony; reprinted with permission from "V Is for Vegetables."
Recipe Summary
Main Ingredients: cabbage, mayonnaise, lemon, dijon mustard, vinegar
Course: Lunch, Side Dish