"Gourmet" Snowballs
Gourmet Magazine's Favorite Holiday Cookie Recipes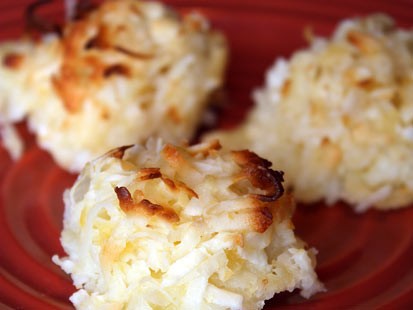 From the kitchen of Gourmet Magazine
|
It's time to fire up the oven for holiday cookies this year, and the editors of Gourmet magazine have shared their favorite recipes from spicy to nutty to chocolaty with Good Morning America's Food Editor Sara Moulton.
Here is the recipe for Snowballs (like coconut macaroons).
Ingredients
2 cups sweetened flaked coconut (4 oz)
1 cup unsweetened coconut (3 oz), finely grated
2/3 cup granulated sugar
1/4 teaspoon salt
2 large egg whites
2 teaspoons water
30 squares fine-quality bittersweet chocolate (1/2-inch from a 3 and 1/2-ounce bar, not unsweetened)
1/2 cup confectioners sugar, about
parchment paper
Cooking Directions
Preheat oven to 350 degrees F.
Pulse sweetened and unsweetened coconuts, granulated sugar, and salt together in a food processor until flaked coconut is finely chopped. Add whites and water and pulse until mixture is moistened and holds together when squeezed.
Roll level tablespoons of coconut mixture into balls with wet hands (you'll need to rinse your hands every 3 or 4 balls). Make an indentation in center of each ball and insert a piece of chocolate, then pinch hole closed and reroll into a ball. Arrange balls 1 inch apart on a parchment-lined large baking sheet.
Bake macaroons in middle of oven until bottoms are golden and balls are puffed but still white, 13 to 15 minutes. Slide macaroons on parchment to a rack to cool completely, then peel off paper.
Dust macaroons lightly with confectioner's sugar just before serving.
Cooks' note: Macaroons keep in an airtight container at room temperature 1 week.
Other Recipes That You Might Like