Gourmet's Beef and Guinness Pies
Comforting St.Patty's Day Meal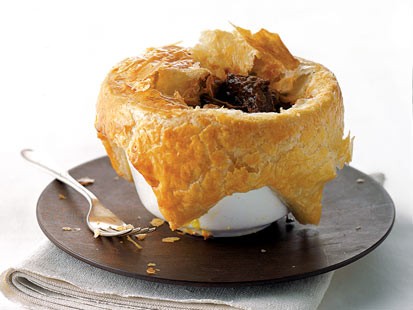 From the kitchen of Gourmet Comfort
There's nothing like a comforting Guinness stew to celebrate St.Patrick's day. For more great recipes, pick up a copy of Gourmet comfort and check out their site.
Ingredients
2 tablespoon all-purpose flour
2 lb boneless beef chuck, cut into 1-inch pieces
2 T bsp vegetable oil
1 large onion, coarsely chopped
2 garlic cloves, chopped
3 T bsp water
11/2 T bsp tomato paste
1 cup beef broth
1 cup chilled Guinness (no foam)
1 T bsp Worcestershire sauce
2 tsp drained brined green peppercorns, coarsely chopped
2 thyme sprigs
1 sheet puff pastry from a 17.3-oz package frozen puff pastry, thawed
Egg wash made by beating 1 large egg with 1 Tbsp water
Cooking Directions
4 (14-oz) deep ovenproof bowls or ramekins or similar capacity ovenproof dishes
Preheat oven to 350°F with rack in middle.
Stir together flour, 1 tsp salt, and 1/2 tsp pepper in a shallow dish. Dredge beef in flour, shaking off excess; transfer to a plate.
Heat oil in a wide 5- to 6-qt ovenproof heavy pot over medium-high heat until just smoking, then brown meat in 3 batches, about 5 minutes per batch, transferring to a bowl.
Add onion, garlic, and water (3 Tbsp) to pot and cook, stirring and scraping up brown bits, until onion is softened, about 5 minutes. Add tomato paste and cook, stirring, 1 minute.
Stir in beef with any juices in bowl, broth, beer, Worcestershire sauce, peppercorns, and thyme and bring to a simmer, then cover with lid and put in oven. Braise until beef is very tender, about 11/4 to 11/2 hours.
Discard thyme and cool stew completely, uncovered, about 30 minutes. (Warm stew will melt uncooked pastry top.)
Put a rimmed baking sheet on middle rack of oven and increase oven temperature to 425°F.
Divide cooled stew among bowls.Roll out pastry dough on a lightly floured surface with a lightly floured rolling pin into a 121/2- inch square. Trim edges and cut pastry dough into quarters.
Brush a 1-inch border of egg wash around each square. Invert 1 square over each bowl and drape, pressing sides lightly to adhere. Brush pastry tops with some of remaining egg wash and freeze 15 minutes to thoroughly chill dough.
Bake pies in preheated pan until pastry is puffed and golden brown, about 20 minutes.
Reduce oven temperature to 400°F and bake 5 minutes more to cook pastry through.
Cooks' note : Stew (without pastry) can be made 2 days ahead, cooled completely, and chilled, covered. Bring to room temperature
Recipe courtesy Gourmet Comfort.
Recipe Summary
Main Ingredients: flour, onion, tomato paste, guinness, puff pastry
Course: Dinner