Grady Spears' Blue Cheese And Bacon Burger With Chipotle Mayo
From "Cooking the Cowboy Way" by Grady Spears with June Naylor/Andrews McMeel Publishing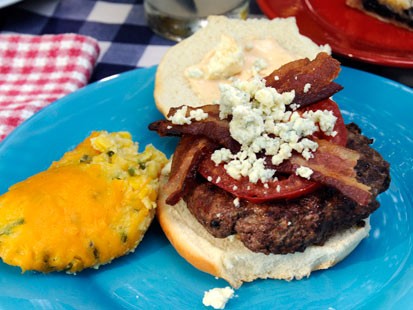 From the kitchen of Grady Spears
Nothing beats the flavor combination of blue cheese, bacon, and chipotle. You get sweet, smoky, tangy, and a little bit of fire, all in one bite. This is a great burger any way you cook it, but if you use ground sirloin, you'll taste the difference.
Ingredients
Burgers:
4 ground sirloin or hamburger patties (8- to 10-ounce)
Kosher salt
1/2 cup Chipotle Mayo (recipe follows)
4 hamburger buns
12 strips thick-sliced bacon, cooked
1 roma tomato, sliced
1 small red onion, sliced thin
1/4 cup crumbled blue cheese
Chipotle Mayo:
Makes 1/2 cup
1/2 cup mayonnaise
1 teaspoon adobo sauce from canned chipotle chiles
1/2 teaspoon freshly squeezed lime juice
Kosher salt
Cooking Directions
Burgers:
Prepare a gas or charcoal grill or heat a skillet to medium-high heat.
Season each burger with kosher salt and cook for 4 to 5 minutes on each side. Remove the burger from the heat and let rest for 3 minutes.
Spread a thin layer of chipotle mayo on the top and bottom of each bun. Place a burger on the bottom bun, then layer the bacon, tomato, and onion on top, and finish with the blue cheese crumbles.
Put the top bun in place and serve warm.
Chipotle Mayo:
In a bowl, combine the ingredients, mixing well. Season with the salt and refrigerate, covered, until needed.
Recipe Summary
Main Ingredients: ground beef, cheese, bacon
Course: Lunch, Dinner