'GMA' Lunch Break: George Duran's Greek Pork Salad Wrap Recipe
Try This Tasty Dish!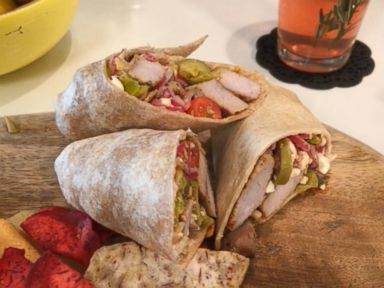 ABC News' Will Ganss stops by the home of chef and entertainer George Duran to learn how to whip up some healthy meals ahead of the Super Bowl.
From the kitchen of George Duran
"GMA" caught up with chef and entertainer George Duran in New York City. Duran, the author of "Take This Dish and Twist It" and the host of TLC's "Ultimate Cake Off," shared his recipe for Greek pork salad wraps.
Watch the "GMA" Lunch Break live stream on ABCNews.com/live and the GMA Facebook page daily at 12:30 p.m. ET.
Ingredients
1/4 cup plus 2 tablespoons extra-virgin olive oil, divided
1 Pork Loin Filet, cut in half lengthwise and thinly sliced
1 cup grape tomatoes, halved
1/2 cup chopped yellow onions
1/2 cup pepperoncini slices, drained
1 (3.8-oz.) can sliced ripe olives, drained
2 tablespoons red wine vinegar
1 (4- to 5-oz.) container crumbled feta cheese
6 (10-inch) flour tortillas
Cooking Directions
Heat 1 tablespoon oil in a large skillet over medium-high. Stir fry half the pork 7 to 8 minutes until browned. Place pork in a single layer on baking sheet.
Repeat with another 1 tablespoon oil and remaining pork slices. Place remaining pork in a single layer on baking sheet to cool quickly
Meanwhile, combine tomatoes, onion, pepperoncini slices, olives, remaining 1/4 cup olive oil, and vinegar. Stir in pork until well blended. Gently toss in feta.
To make wraps, spoon about 1 1/2 cups pork mixture on 1/2 of each tortilla. Roll each tortilla up, folding edges in as you go. Place seam side down and cut in half to serve.
Recipe courtesy: George Duran
Recipe Summary
Main Ingredients: olives, feta cheese, pork loin filet, tortillas
Course: Dinner, Lunch