Laila Ali's green power shake recipe
Try this protein-packed shake!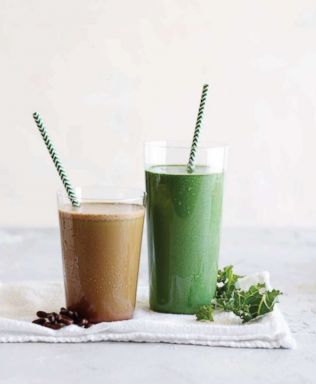 From the kitchen of Laila Ali
Former professional boxer Laila Ali shared this recipe for her green power shake, that is featured in her new cookbook, on "GMA" today.
"Protein shakes and smoothies don't have to be boring and uninspiring anymore, thanks to a greater availability of fresh ingredients and some innovative mixing and matching," Ali wrote in her debut cookbook "Food for Life." "This recipe transformed my morning smoothie from a chore to something special to wake up to!"
Ingredients
1 cup plain kefir, homemade or store-bought
1/2 cup water
1 scoop whey or other natural protein powder
1/2 small ripe avocado, peeled and chopped
1 tablespoon honey or maple syrup, or to taste (optional)
1/2 to 1 teaspoon spirulina or chlorella powder
Large handful of fresh or frozen spinach or kale leaves, torn into pieces if using fresh
1 teaspoon fresh lemon juice, or to taste
Small pinch of sea salt, or to taste
Handful of ice cubes
Cooking Directions
In a blender, combine all the ingredients except the ice. Blend, starting on low speed and finishing on high speed, until smooth.
Add the ice and blend again, starting on low speed and finishing on high speed, until smooth, adding more water if your shake is too thick
Variation: Swap in coconut water or maple water (see page 250) for the water for their mildly sweet flavor and electrolyte content.
Recipe courtesy From Food for Life by Laila Ali. Copyright © 2018 by the author and reprinted by permission of St Martin's Press.
Recipe Summary
Main Ingredients: kefir, water, protein powder, avocado, honey