How to make 'Body Love' nutritionist's green smoothie
A healthy way to fuel your morning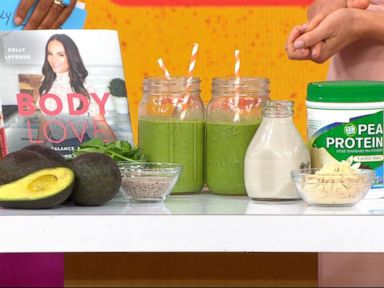 Health coach and holistic nutritionist Kelly LeVeque shares why it is important to eat healthy when you feel stressed and shares some of her recipes.
From the kitchen of Kelly LeVeque
Nutritionist-to-the stars Kelly LeVeque shares her green smoothie recipe from her book, "Body Love," to fuel your morning.
Ingredients
1 serving vanilla protein powder
1/4 avocado, or 2 tablespoons coconut oil
2 tablespoons chia seeds
Handful of spinach
2 cups unsweetened nut milk
Cooking Directions
Place all the ingredients in a high-speed blender and blend to the desired consistency.
From Body Love by Kelly LeVeque. Copyright © 2017 by Kelly Leveque. Reprinted by permission of William Morrow, an imprint of HarperCollins Publishers.
Recipe Summary
Main Ingredients: vanilla protein powder, avocado, spinach, unsweetened nut milk
Course: Breakfast, Drinks