Kellyann Petrucci's Green Soup Recipe
A 'Go-to Soup' for Energy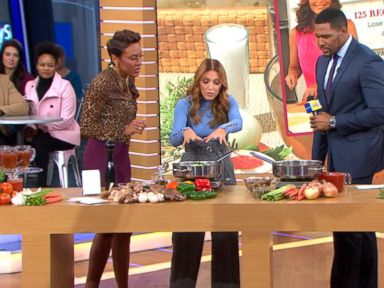 The nutritionist explains the benefits of bone broth for your health and shares some of her recipes.
From the kitchen of Kellyann Petrucci
Kellyann Petrucci, the author of a new cookbook, "Dr. Kellyann's Bone Broth Cookbook," shared her green soup recipe. Petrucci says it's a "great go-to soup when you're in a hurry and want a big surge of energy."
"And if anyone in your family is under the weather, this is the very best medicine," Petrucci added.
Ingredients
4–6 cups Chicken Bone Broth (see recipe here) or chicken stock
¼ teaspoon ground turmeric
3 cloves garlic, thinly sliced
1–2 large leeks, white parts only, washed thoroughly and thinly sliced
3 heads baby bok choy, each cut into 6–8 wedges
¼ teaspoon Celtic or pink Himalayan salt
Freshly ground black pepper
Cooking Directions
In a 2-quart pot, bring the broth to a simmer over medium heat. Add the turmeric, garlic, and leeks and simmer for 10 minutes. Add the bok choy and season with salt and pepper; stir. Simmer for about 2 minutes more.
Once the bok choy is tender and bright green, serve immediately.
This recipe is reprinted with permission from "Dr. Kellyann's Bone Broth Cookbook" by Kellyann Petrucci, MS, ND. Copyright (c) 2016 by Dr. Kellyann Petrucci, MS, ND. By permission of Rodale Books. Available wherever books are sold.
Food styling by Karen Pickus for "Good Morning America."
Recipe Summary
Main Ingredients: chicken bone broth, turmeric, garlic, leeks, baby bok choy
Course: Dinner