'GMA' lunch break: Vandal chef Jonathan Kavourakis' grilled Brussels sprouts
Try this delicious vegetable side!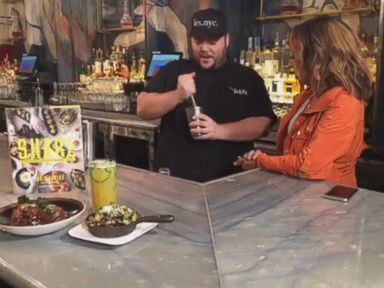 ABC News' Mara Schiavocampo and Vandal chef Jonathan Kavourakis cook dishes from Vandal's menu on the "GMA" Lunch Break live stream.
From the kitchen of Vandal's Jonathan Kavourakis
"Good Morning America" caught up with Vandal executive chef Jonathan Kavourakis for lunch at the New York City restaurant. Try this popular dish from Vandal's menu.
Watch the "GMA" Lunch Break live stream on ABCNews.com/live and the GMA Facebook page every Monday, Wednesday and Friday at 12:30 p.m. ET.
Ingredients
6.8 oz Brussels Sprouts
1 oz Lime Cilantro Mayo ** Recipe below
1/2 oz Lime Juice
0.08 oz Micro Cilantro
0.3 oz Cotija Cheese
0.3 oz Chili Salt
Olive oil
Salt
Pepper
Lime Cilantro Mayo Ingredients
12 bottle Kewpie Mayonnaise (20 oz. bottles)
12 cups mayonnaise
1/2 cup Chili Salt (1.5 oz)
3 oz Cilantro
12 ea. Limes, zested and juiced
(Yields 9 quarts)
Cooking Directions
Depending on the size, cut the Brussels sprouts in halves or quarters.
Toss with olive oil, salt and pepper.
Lay out on sheet pan and roast at 350 degrees until golden brown.
Combine both mayo's with chili salt, lime zest and juice.
Pick the cilantro leaves, discard the stems.
Chop fine and add to the mayo blend.
In a hot pan, sauté the grilled Brussels sprouts slightly and place in an oven to get hot.
Remove pan from the oven add lime juice and chili salt and toss.
Finish with mayo and incorporate thoroughly.
Garnish with cotija and cilantro.
Recipe courtesy Vandal.
Recipe Summary
Main Ingredients: brussels sprouts, lime, mayonnaise, olive oil
Course: Side Dish