Grilled Peanut Butter, Banana and Honey on English Muffins
Breakfast Gets Grilled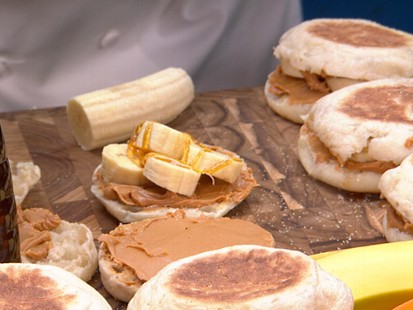 TV chef prepares a peanut butter, honey and banana sandwich, along with a strawberry smoothie.
From the kitchen of Emeril Lagasse
|
Try this new take on breakfast! Emeril's grilled sandwich is a surprisingly delicious way to start the morning.
Ingredients
4 whole wheat or regular English muffins, split in half
1/2 cup creamy peanut butter
2 ripe bananas, sliced into ¼-inch-thick rounds
2 tablespoons honey
2 tablespoons unsalted butter, melted
Cooking Directions
Place the halved English muffins on a clean work surface, cut sides up. Spread 1 tablespoon of peanut butter over each piece. Divide the banana rounds equally among 4 of the halves, and drizzle 11/2 teaspoons of the honey over each banana-topped half. Top with the 4 remaining halves. Using half of the melted butter, brush one side of each sandwich.
Heat a 12-inch sauté pan over medium-high heat. When it is hot, lower the temperature to medium. Place 2 sandwiches in the pan, buttered side down, and cook until crisp and browned, 2 to 3 minutes. Brush the tops of the sandwiches with some of the remaining melted butter. Turn the sandwiches over and cook the other side for another 1 to 2 minutes. Remove, and repeat with the remaining sandwiches. Slice the sandwiches in half diagonally, and serve immediately.
Recipe courtesy Emeril Lagasse, adapted from Emeril's Kicked-Up Sandwiches, Harper Collins Publisher, New York, 2012, copyright MSLO, Inc., all rights reserved
This recipe was styled by chef Karen Pickus for Good Morning America.
Other Recipes That You Might Like