Home
>
GMA
>
Recipes Home
>
Guy Fieri's Grilled Pork-On-Pork Kebabs with Orange Honey Mustard Sauce
Guy Fieri's Grilled Pork-On-Pork Kebabs with Orange Honey Mustard Sauce
A Zesty Fall Dinner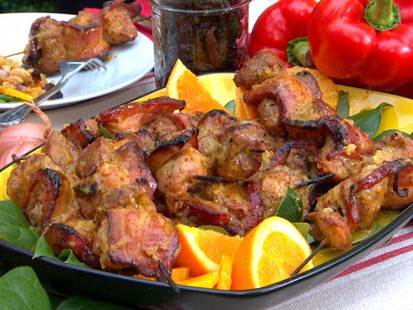 The famous chef grills up a delicious fall feast and discusses his new show, "Guy's Grocery Games."
From the kitchen of Guy Fieri
|
Celebrity chef Guy Fieri stopped by "Good Morning America" to share some of his favorite fall recipes. Try his seasonal grilled pork-on-pork kebabs with orange honey mustard sauce to celebrate autumn's arrival.
Ingredients
1 (16-20 ounce) trimmed pork tenderloin
1 (1 pound) whole slab apple wood smoked bacon
2 teaspoons Italian seasoning
1 tablespoon granulated garlic
1 teaspoon paprika
2 teaspoons kosher salt
1 teaspoon freshly ground black pepper
Brine:
1 cup kosher salt
½ cup sugar
2 bay leaves
4 sprigs fresh thyme
3 garlic cloves, smashed
4 cups ice
Canola oil, for brushing grill
6 (8-inch) skewers
Orange Honey Mustard Sauce:
1 small shallot, finely diced
1 cup orange juice
2 tablespoons orange blossom honey
1/4 cup country Dijon mustard
Cooking Directions
For pork kebabs:
Begin by making brine. Combine salt, sugar, bay leaves, thyme, and garlic in a pot with 2 cups water. Bring to a boil, and once everything has dissolved, remove from heat and add ice cubes to cool down. Set aside.
Portion pork tenderloin into 1-inch cubes. 1 large tenderloin should yield 24 cubes. Place pork in brine and place in fridge for 45 minutes. Meanwhile prepare bacon. Make sure bacon is chilled so it is easier to slice. Cut into ½ inch thick slices--each slice should be about 2.5 ounces and 1 slab should yield 6 slices. Set a large pot of cold water over high heat and place bacon in the water. Bring to a boil and then simmer for 5 minutes. This renders some of the fat from the bacon, par-cooks it and ensures it crisps up nicely on the grill (rendering the fat also helps prevents flare-ups later on).
Drain pork from brine and season with a sprinkle of combined Italian seasoning, granulated garlic, paprika, salt and pepper. Working with one skewer at a time, thread the bacon at one end followed by a piece of pork. Loop the bacon over the pork so it forms an "S" shape around the pork and continue to thread the bacon and pork together so each skewer has 4 pieces of pork and one thick strip of bacon on it.
Heat a grill to medium and wipe down the grates with oil. Place pork kebabs across grill and cook for 3-4 minutes on each of four sides until bacon is crisped around edges and pork is a tender medium. Serve with Orange Honey Mustard sauce drizzle over the top (directions below).
For orange honey mustard sauce:
Combine ingredients in a small sauce pan over medium-low heat and simmer for 8-10 minutes. Stir well, then remove from heat and keep warm until ready to serve
Recipe courtesy Guy Fieri.
Other Recipes That You Might Like