Guilt-Free Stuffed Whole Wheat Pizza
Loaded With Cheese, Veggies -- and Flavor!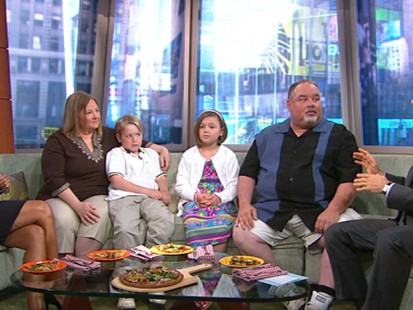 Family speaks about nutrition challenges and keeping their kids healthy.
From the kitchen of Michael F. Roizen, M.D. and Mehmet C. Oz, M.D.
|
Ingredients
Cooking oil spray
1 pound fresh stir-fry vegetables such as asparagus, broccoli, cauliflower, mushrooms, multicolored bell peppers, red and white onions and zucchini, cut up
2 garlic cloves, minced
Salt and freshly ground black pepper (optional)
1 cup pizza sauce or tomato sauce
2 tablespoons olive relish or tapenade
2 tablespoons sundried-tomato bits
One 12 inch or 10-ounce prepared thin whole wheat pizza crust
½ cup (2 ounces) finely shredded part-skim mozzarella cheese
Cooking Directions

Heat oven to 425 degrees.

Heat a large nonstick skillet over medium-heat, heat until hot.

Coat with cooking spray.

Add vegetables and garlic; stir-fry (really sauté) 2 to 5 minutes , or until vegetables are crisp-tender.

Season to taste with salt and pepper, if desired.

Combine pizza sauce, olive relish, and sundried tomato bits.

Spread over pizza crust; top with cooked vegetables and cheese.

Bake pizza directly on oven rack 10 to 15 minutes, or until crust is golden brown and cheese is melted.

Cut pizza into 8 wedges.
Nutrition Facts
Two slices per serving. Each serving has 322 calories.
Total fat: 11.5 grams
Saturated fat: 3.5 g
Healthy fats: 7.9 g
Fiber: 5.7 g
Carbohydrates: 44.2 g
Sugar: 3.5 g
Protein: 12.2 g
Sodium: 682 mg
Calcium: 151 mg
Magnesium: 44 mg
Selenium: 2.9 mcg
Potassium: 481 mg
Recipe taken from the book "YOU ON A DIET: The Owner's Manual for Waist Management" by Michael F. Roizen, M.D. and Mehmet C. Oz, M.D. published by Free Press.
This recipe was styled by chef Karen Pickus for Good Morning America.
Other Recipes That You Might Like