Gustavo's French Toast Bread Pudding
Try this Breakfast Inspired Dessert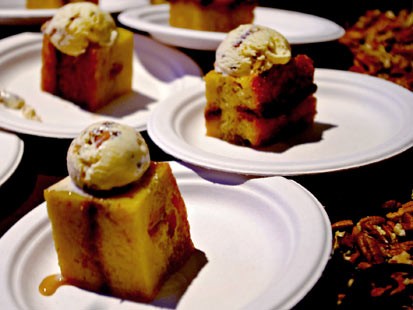 From the kitchen of Gustavo of "Abe and Arthur's"
Ingredients
16 slices of your favorite bread (brioche, challah, texas bread, etc.)
For the pudding base:
5 cups whole milk
5 cups whipping cream
7 vanilla bean pods
15 yolks
2 Tbp light brown sugar
1/2 cup granulated sugar
1/2 tsp salt
1/2 Tbp ground cinnamon
4 Tbp Whisky or Bourbon
1/2 cup maple syrup
For the bourbon maple syrup:
2 cups maple syrup
1 cinnamon stick
1 whole clove
1 vanilla bean pod
1 tsp lemon juice
1/2 cup Jack Daniels
Cooking Directions
For the pudding base:
Simmer milk, cream and vanilla on a heavy tall pot. In another bowl whisk together the sugars and yolks until incorporated. Add around 1 cup of the hot liquid slowly to the egg mixture while whisking constantly. Add the egg mixture back to the liquid on the pot, low heat. Add salt, cinnamon, liquor and maple. Turn heat to medium high for one minute, whisk constantly. Turn off heat, pour liquid to a metal tall container through a strainer. Let cool on fridge for 1/2 a day. Reserve.
For the bourbon maple syrup:
Heat all medium high until incorporated. Around 5 minutes. Let cool a bit.
To assemble the recipe:
On a 9x9x3 baking tray or caserole lined buttered bottom with slices of your favorite bread (brioche, challah, texas bread, sliced, baggette) (16 slices). Tightly close to each other form them in one layer. Add 1 cup of the cool pudding base to soak the bread. Press to help. Repeat this 2 more times. Let stand room temperature for around 30 minutes. Bake at 350 degrees Farenheit for 15 minutes or until golden brown. Take out from oven let it cool down completely for 2 hours. Cut squares from it and soak with Maple syrup. Reheat in oven for 5 minutes. Serve with vanilla ice cream.
Recipe courtesy of Abe and Arthurs.
Recipe Summary
Main Ingredients: vanilla, maple syrup, cinnamon, bourbon, cream, milk, yolk
Course: Brunch, Breakfast, Dessert