Guy Fieri's Firecracker Wings
These Wings Have a Kick to Them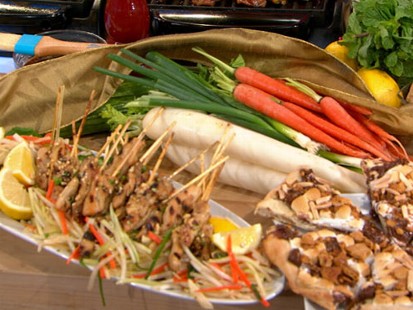 Chef, author of "Guy Fieri Food" prepares perfect party foods from his book.
From the kitchen of Guy Fieri
|
Make sure you toast the sesame seeds for the recipe carefully, as they burn easily! The wings are grilled and basted in extra sauce for the most flavorful wings you've ever tasted.
Ingredients
5 pounds chicken wings
6 cups water
1/4 cup kosher salt
1/3 cup chili- garlic sauce
1 cup honey
2 tablespoons soy sauce
1/2 cup Sweet Soy Sauce (find in Asian markets)
3 tablespoons sriracha sauce
1/4 cup apple cider vinegar
1/4 cup minced ginger
1 teaspoon ground sea salt
1 tablespoon freshly cracked black pepper
1 teaspoon sesame seeds, toasted*
1 tablespoon minced green onions
Cooking Directions
*To toast the sesame seeds, just put them over low heat in a dry skillet and watch them carefully!
Directions:
Cut the wings apart at the joints and discard the tips. In a large glass bowl, combine the water, kosher salt, ¼ cup of the chili- garlic sauce, and 1/4 cup of the honey. Stir until the salt is dissolved. Add the wings and refrigerate for 30 minutes or up to 4 hours.
To make the basting and dipping sauce, in a small bowl, combine the remaining chili- garlic sauce, the soy sauce, sweet soy sauce, sriracha, the remaining honey, vinegar, and ginger and mix well. Set aside half of the sauce for serving in order to avoid contamination.
Preheat a grill to medium- high. Drain the wings and season them with sea salt and pepper. Grill the wings until golden, 15 to 20 minutes, turning as needed. When the wings reach the right color, continue cooking over indirect heat until they're at the desired doneness, then baste them with the sauce, turning as needed until the wings are glossy and well coated. Garnish the wings with the sesame seeds and green onion and serve with the reserved dipping sauce
This recipe was styled by chef Karen Pickus for Good Morning America.
Recipe courtesy Guy Fieri Food: Cookin' it Livin' it Lovin' it.
Other Recipes That You Might Like