Guy Fieri's Green Papaya Salad with Lemongrass Chicken
A Sweet Asian Inspired Salad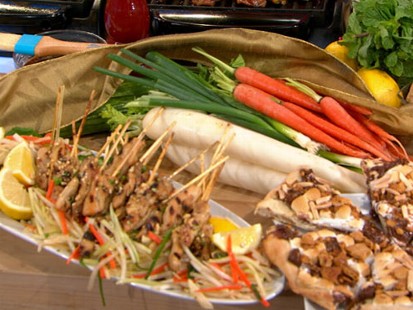 Chef, author of "Guy Fieri Food" prepares perfect party foods from his book.
From the kitchen of Guy Fieri
|
This salad has unique ingredients like lemongrass, fish sauce, and mirin. If you have trouble finding these, check your local asian supermarket.
Ingredients
1 cup minced lemongrass (about 5 stalks)
3 tablespoons minced ginger
1 tablespoon minced garlic
½ cup dry white wine (sauvignon blanc or chardonnay)
3 tablespoons fish sauce
2 tablespoons soy sauce
2 tablespoons fresh lemon juice
6 boneless, skinless chicken thighs (cut into ¾-inch strips)
½ lemon to finish
Chopped peanuts for garnish
Chopped green onions, for garnish
For the papaya salad:
3 cups thin matchstick green (unripe) papaya
1 cup thin matchsticks carrot
1 cucumber seeded and cut into thin matchsticks
1 cup fresh bean sprouts
1 cup thin matchsticks daikon radish
3 green onions, cut into 2-inch-long matchsticks (white and green parts)
¼ cup finely shredded mint leaves
For the vinaigrette:
¼ cup rice vinegar
3 tablespoons mirin
½ teaspoon sesame oil
1 tablespoon soy sauce
2 tablespoons fish sauce
1 teaspoon Chile Sauce
¼ cup olive oil
Cooking Directions
Special Equipment:
Ten 12-inch soaked bamboo skewers, soaked in water for 20 minutes.
To make the chicken, place the lemongrass, ginger, garlic, wine, fish sauce, soy sauce, and lemon juice in a resealable 1-gallon plastic bag. Add the chicken, seal, and marinate for 4-24 hours in the refrigerator.
To make the papaya salad, combine all the ingredients in a large bowl, toss with the vinaigrette, and refrigerate for 30 minutes.
To make the vinaigrette, whisk all the ingredients except the olive oil in a medium bowl. Slowly whisk in the olive oil. Refrigerate until chilled.
Preheat a grill to medium-high.
Remove the chicken from the marinade (discard the marinade). Skewer the chicken lengthwise onto bamboo skewers and grill on both sides until marked and cooked through, about 12 minutes. Place the skewers onto a serving platter and squeeze the lemon over the chicken. Garnish with the peanuts and green onions, and serve the salad alongside the chicken.
This recipe was styled by chef Karen Pickus for Good Morning America.
Recipe courtesy Guy Fieri Food: Cookin' it Livin' it Lovin' it.
Other Recipes That You Might Like