Gwyneth Paltrow's Candy Bars
From Her New Cookbook, 'It's All Good'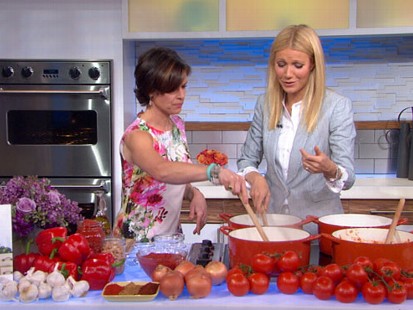 Gwyneth Paltrow prepares sugar-, dairy- and gluten-free recipes from her new cookbook.
From the kitchen of Gwyneth Paltrow
|
Makes about 1 1/2 dozen bars
Ingredients
1 1/2 cups raw cashews
1 1/2 cups dates, pitted and roughly chopped
1/2 cup almond butter
1/2 cup grade B maple syrup
1/2 cup coconut flour
1/2 cup unsweetened shredded coconut
1/2 teaspoon almond extract
1 1/2 cups dark chocolate chips (60% or higher cocoa content)
1 1/2 tablespoons coconut oil
Cooking Directions
Grind the cashews to a very fine meal in a food processor. Add the dates, almond butter, maple syrup, coconut flour, shredded coconut, and almond extract and pulse until you have a sticky ball of dough.
Line a small sheet pan with parchment paper and press the cashew mixture out onto the paper, making a rectangle 1 inch deep. It helps if you put a drop of oil or water on your hands before doing this. Refrigerate the mixture for 6 to 8 hours, until it's firm.
Meanwhile, combine the chocolate chips and coconut oil in a stainless steel or glass bowl set over a pot of simmering water (make sure the water doesn't touch the bowl). Stir the mixture until it's just melted, remove the bowl from the heat, and pour the chocolate mixture over the cold cashew mixture.
Return the bar to the fridge and let it cool until the chocolate coating is set, at least 1 hour. Using the parchment, lift the bar out of the sheet pan and cut it into rectangles (or you can use cookie cutters to make fun shapes for kids!).
Serve at once, or store in an airtight container.
Recipe courtesy Gwyneth Paltrow.
This recipe was styled by chef Karen Pickus for Good Morning America.
Other Recipes That You Might Like