Gwyneth Paltrow's Chicken Burgers, Thai Style
From Her New Cookbook, 'It's All Good'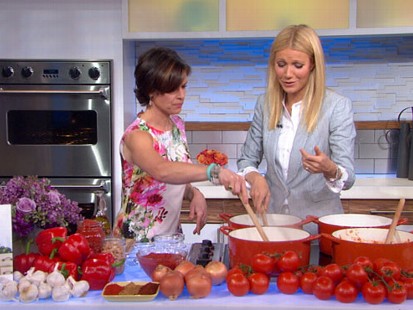 Gwyneth Paltrow prepares sugar-, dairy- and gluten-free recipes from her new cookbook.
From the kitchen of Gwyneth Paltrow
|
These were invented when I was trying to think up new and flavorful ways to use chicken while keeping out bad stuff. Insanely flavorful, these can be served with a side salad or on a gluten-free bun.
Elimination Diet
Protein-Packed
Ingredients
1 pound ground chicken (preferably dark meat)
2 garlic cloves, very finely minced
2/3 cup cilantro, finely chopped
2 shallots, very finely minced
1 teaspoon very finely minced red chili (or more or less, however hot you like it)
2 teaspoons fish sauce
½ teaspoon coarse sea salt
½ teaspoon freshly ground black pepper
2 tablespoons neutral oil (like canola, grapeseed, or safflower oil)
Cooking Directions
Thoroughly mix the chicken with the garlic, cilantro, shallots, red chili, fish sauce, salt, and pepper. Form the mixture into 4 burgers, each about ¾ inch thick.
Heat a grill or grill pan over medium heat. Rub each burger on both sides with a bit of the safflower oil and grill for about 8 minutes on the first side and another 5 minutes on the second, or until nicely marked and firm to the touch.
Recipe from "It's All Good" granted with permission from Grand Central Publishing.
Other Recipes That You Might Like