Gwyneth Paltrow's Chicken and White Bean Chili
From Her New Cookbook, 'It's All Good'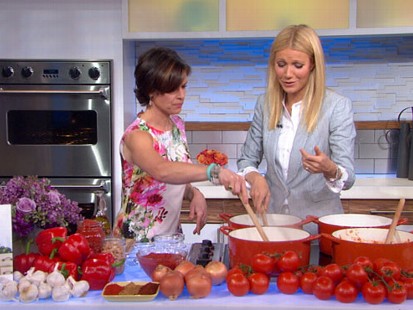 Gwyneth Paltrow prepares sugar-, dairy- and gluten-free recipes from her new cookbook.
From the kitchen of Gwyneth Paltrow
Try this hearty chili recipe from Gwyneth Paltrow's cookbook, "It's All Good."
Ingredients
3 chicken breasts on the bone with their skin (or 1 whole 3- to 4-pound chicken, cut up), at room temperature
3 tablespoons extra virgin olive oil, divided
Coarse sea salt
Freshly ground black pepper
2 small yellow onions, diced (about 2 cups)
1 red bell pepper, seeds and stem discarded, diced (about 1 cup)
3 garlic cloves, minced
3/4 teaspoon ground cumin
1/2 teaspoon chili powder
1/2 teaspoon sweet pimenton
1 28-ounce can whole peeled tomatoes with their juice
1 14-ounce can cannellini or navy beans, rinsed and drained
Toppings (choose 1 or more): cilantro, lime wedges, finely diced red onion, hot sauce, plain sheep's or goat's milk yogurt
Cooking Directions
Preheat the oven to 425 degrees F. Rub the chicken breasts or cut-up pieces with 1 tablespoon of olive oil, season aggressively with salt and pepper, and set them on a parchment-lined sheet pan.
Roast until they're very firm to the touch and just cooked through, about 25 minutes. Once the chicken is cool enough to handle, remove the skin and bones and shred the meat with your fingers. Set it aside.
Meanwhile, heat the remaining 2 tablespoons of olive oil in a large soup pot set over medium-high heat. Add the onions, bell pepper, garlic, cumin, chili powder, pimentón, and a large pinch of salt. Cook, stirring now and then, until the vegetables are softened but not browned, about 10 minutes. Add the tomatoes and another pinch of salt and turn the heat up. Once the mixture comes to a boil, turn the heat to low and cook for 1/2 hour, or until the tomatoes begin to break down and lose their tinny taste.
Break the tomatoes up a bit with the back of your spoon and add the beans and the reserved chicken to the pot, stirring to combine. Add a splash of water (about 1/3 cup) if the chili is looking a bit dry and simmer for another 15 to 20 minutes before seasoning to taste with salt and pepper. Serve with whatever toppings you like.
Recipe courtesy Gwyneth Paltrow.
This recipe was styled by chef Karen Pickus for Good Morning America.
Recipe Summary
Main Ingredients: chicken breasts, onions, tomatoes, red onion, hot sauce
Course: Soup