Hallie Klecker's Gluten-Free Cranberry Mousse Pie with Chocolate Almond Crust
Try This New Holiday Treat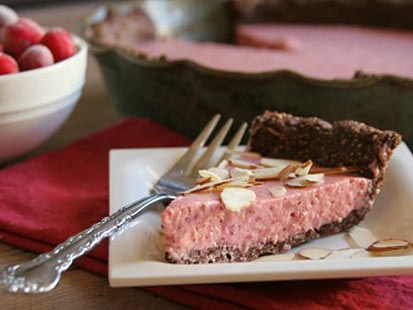 From the kitchen of Hallie Klecker
This grain-free, dairy-free mousse pie is an elegant and unexpected offering for holiday celebrations. The zesty filling pairs beautifully with the sweet and nutty chocolate crust.
Check out Hallie's blog, Daily Bites.
Ingredients
For the crust:
1 cup blanched slivered almonds
¼ cup unsweetened cocoa powder
¼ teaspoon baking soda
¼ teaspoon sea salt
2 tablespoons virgin coconut oil
2 tablespoons agave nectar
¼ cup unsweetened shredded coconut
For the filling:
2/3 cup frozen cranberries (not thawed)
½ cup frozen pitted cherries (not thawed)
¾ cup canned coconut milk (full fat)
¼ cup plus 1 tablespoon agave nectar
1 tablespoon fresh orange juice
1 teaspoon finely grated orange zest
1 tablespoon plus 1 teaspoon unflavored, unsweetened gelatin
¼ cup boiling water
sliced almonds, for garnish (optional)
Cooking Directions
Preheat the oven to 350°F.
Make the crust: in a food processor fitted with the steel blade, grind the almonds for about 1 minute to form a meal. Add the cocoa powder, baking soda, and salt. Process to combine. Transfer the mixture to a large mixing bowl.
In a small pot over low heat, melt the coconut oil and agave nectar together. Stir this into the flour mixture until thoroughly combined. Stir in the shredded coconut. Press the dough into the bottom and up the sides of a 9-inch pie plate. Wet your fingers slightly with water if the dough sticks to them.
Bake the crust for about 15 minutes or until dry and firm to the touch. Set aside to cool.
Make the filling: in a blender combine the cranberries, cherries, coconut milk, agave nectar, orange juice, and orange zest. Blend on high to combine. In a small bowl, dissolve the gelatin in the boiling water. Add this mixture to the blender and blend on high to combine. Immediately pour the filling into the cooled pie crust.
Transfer the pie to the refrigerator to chill for at least 1 hour. Serve chilled, sprinkled with the sliced almonds if using.
Recipe courtesy of Hallie Klecker, author of "The Pure Kitchen."
Recipe Summary
Main Ingredients: almonds, cocoa, agave, gelatin
Course: Dessert
More Info: Kid Friendly, Sugar Free, Wheat/Gluten Free