Harley's Healthy Mac and Cheese
A Healthy Alternative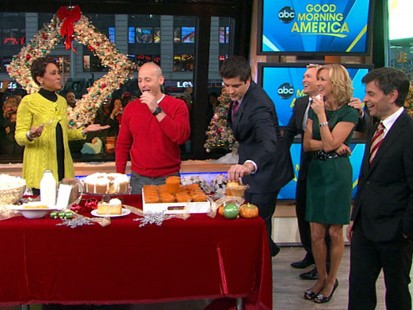 The Revolution's Harley Pasternak on how to indulge without putting on pounds.
From the kitchen of Karen Pickus
|
The cheese powder for the Macaroni and Cheese recipe is the original Kraft cheese powder that comes in the box. See recipe for Macaroni and Cheese below.
Ingredients
¾ cup whole grain macaroni noodles
1/4 cup fat-free milk
1 piece Laughing Cow cheese
1 packet of cheese powder
Cooking Directions
Cook the macaroni according to package instructions.
In a 1 quart pot bring the milk to a boil, turn off the heat, add the Laughing cow cheese a little at a time and stir with a wire whisk. Stir in the pasta with A rubber spatula, then stir in the cheese packet.
Makes 1 serving. Serve immediately.
Entire dish of Macaroni and Cheese yield: 379 calories, 4g fat and 16g fat (1 serving)
This recipe was styled by chef Karen Pickus for Good Morning America.
Recipe courtesy Karen Pickus.
Other Recipes That You Might Like