Harley's Healthy Pumpkin Pie
A Healthy Alternative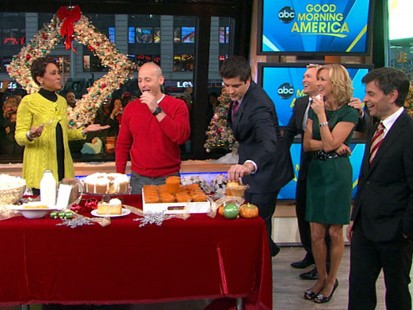 The Revolution's Harley Pasternak on how to indulge without putting on pounds.
From the kitchen of Karen Pickus
|
Ingredients
1 Pepperidge Farm pastry shell
1 ½ cups skim milk
2 Tbs. corn starch
1 cup canned pumpkin, without salt
½ tsp. Kosher Salt
¾ cup.Splenda, 40 tsp
½ cup Best of the Egg--Egg Substitute
3/4 tsp.cinnamon
¾ tsp.nutmeg
¾ tsp.ginger
Cooking Directions
Entire Pie Yields: 1 pie has 484 calories, 14g fat, 33g protein (approx. 3 servings as the pie is intended to be a snack)
1 Pastry shell divided into thirds and 1/3 of the filling equals 1 serving.
Bake the pastry according to package instructions.
For the filling:
In a 2 quart pot combine the corn starch with the skim milk with a wire whisk.
Whisk in the pumpkin,the salt and the splenda. Bring to a boil and boil for 2 minutes. Turn of the heat and whisk in the Best of the egg, egg substitute. Stir in the spices Cool completely in the refridgerator before serving with the pastry shell.
This recipe was styled by chef Karen Pickus for Good Morning America.
Recipe courtesy Karen Pickus.
Other Recipes That You Might Like