Harley's Healthy Spinach and Artichoke Dip
A Healthy Alternative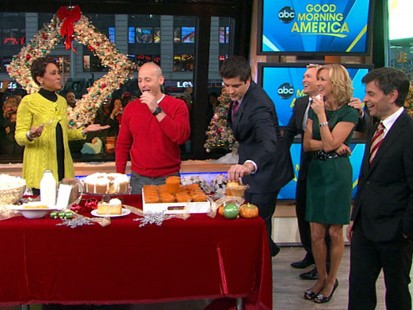 The Revolution's Harley Pasternak on how to indulge without putting on pounds.
From the kitchen of Karen Pickus
Ingredients
1 cup onion,chopped
1 clove garlic, minced
3 cups baby spinach
¾ cup Best Choice Fat Free Shredded Mozzarella cheese
½ 14 oz. can drained, quartered artichoke hearts
2 tbsp fat free mayonaise
2 tbsp Breakstone Fat Free Sour Cream
¼ cup fresh lemon juice,
Add a dash of tabasco sauce (optional)
Cooking Directions
Spray a 4 quart pot with vegetable cooking spray. Over medium high heat add the onion and garlic and sauté until onions are softened with no color stir in the spinach until wilted. Add the mozzerella cheese and stir until melted. Place mixture into a large bowl stir in the remaining ingredients. Place into an attractive serving bowl. Serve warm with cut up vegetables
Yields: 361 calories, 1g fat, 12g protein, 6g fibre
Instead of serving with fattening crackers, slice up carrot and celery sticks as dippers.
This recipe was styled by chef Karen Pickus for Good Morning America.
Recipe courtesy Karen Pickus.
Recipe Summary
Main Ingredients: onion, garlic, spinach, lemon juice, sour cream
Course: Appetizer/Starter
More Info: Kid Friendly, Low Calorie