Spot Dessert Bar's The Harvest
Dirt Dessert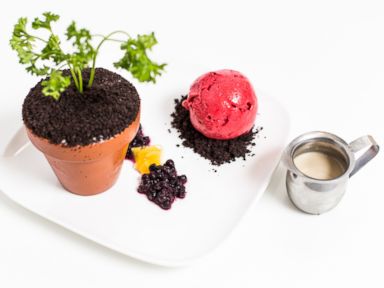 From the kitchen of Spot Dessert Bar
|
Even though it may be dragging its feet, there's no denying spring is on the way. And to welcome it warmly, Spot Dessert Bar in New York City has created a seasonally-inspired dessert that will have you looking twice. The Harvest looks like an actual potted plant, a la those crumbled Oreo "dirt" and jelly worm creations you ate as a kid. Except it tastes so much better.
Ingredients
Oreo crumbles
Soft cheesecake (recipe below)
Fresh berries
Whipped cream
Sponge cake
Walnut soil (recipe below)
Plant pot
Cooking Directions
Build from bottom up: Spoon a couple of tablespoons of walnut soil in the container. Layer with strawberry jam. Add sponge cake pieces, whipped cream and fresh berries. Pipe in a layer of soft cheesecake (recipe below). Cover with Oreo crumbs and garnish with a fresh sprig of mint.
Walnut soil:
2 sticks butter
1/2 cup sugar
1/2 cup brown sugar
Pinch of salt
1 egg
1 teaspoon vanilla extract
1 1/2 cups all-purpose flour
1 teaspoon baking soda
1 teaspoon baking powder
Cream together the butter and sugar. Once fluffy, add the egg, vanilla extract and salt. Mix in flour, baking soda and and baking powder. Once incorporated, add walnuts and mix.
Spread out onto a sheet pan and bake at 350 degrees F until golden brown, about 20-25 minutes. Once cool, put the mixture in a food processor and finely grind.
Soft cheesecake:
1 cup cream cheese
Zest from one lemon
1/4 cup sugar
Pinch of salt
1 teaspoon honey
1/4 cup Creme fraiche
1 cup heavy cream, whipped
Paddle together the cream cheese and sugar in a mixer. Add lemon zest and salt. Add honey and creme fraiche and paddle until fully incorporated. Whip heavy cream until it has soft peaks. Fold the whipped cream mixture into the cheese mixture.
Recipe courtesy Spot Dessert Bar.
Other Recipes That You Might Like