Waffleizer's Hash Brown Waffles
Waffle Wins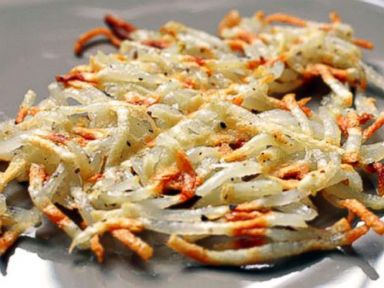 From the kitchen of Waffleizer
|
Your waffle iron is capable of so much more than you give it credit for. Let the appliance prove its worth with these Hash Brown Waffles from Waffleizer.
Ingredients
Potatoes
Salt
Pepper
Butter
Cooking Directions
Wash and peel the potatoes. Shred them and squeeze them dry with a towel. (This ensures that your potatoes brown nicely.)
In a mixing bowl, add the potatoes, followed by salt and pepper to taste.
Spread about a teaspoon of butter on the waffle iron. (A silicone pastry brush works well; neither you nor the brush will melt while you spread the butter around the extremely hot waffle iron, and any nonstick finish on your waffle iron will be spared.)
Pile the shredded potatoes into the waffle iron and close the lid.
After a few minutes, you may wish to squeeze down the lid a bit. Check the potatoes after 10 minutes. In my waffle iron on the medium heat setting, the potatoes showed golden-brown highlights after about 15 minutes. But yours will vary, possibly by quite a bit.
Carefully remove the potatoes from the waffle iron.
Recipe courtesy Dan Shumski, Waffleizer blogger and author of the upcoming Will It Waffle?
Other Recipes That You Might Like