Roy Yamaguchi's Hawaiian mocktail recipe
A cooling drink made with coconut water and pineapple.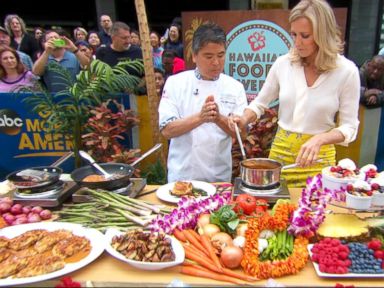 Chef Yamaguchi joins "GMA" to share a variety of Hawaiian offerings, including his famous macadamia nut-crusted mahi-mahi.
From the kitchen of Roy Yamaguchi
Roy Yamaguchi is the celebrity chef behind Roy's restaurants and cookbooks including "Roy's Feasts from Hawaii and Hawaii Cooks: Flavors from Roy's Pacific Rim Kitchen." Yamaguchi appeared on "Good Morning America" to share recipes in celebration of Hawaiian Foods Week. Try this recipe for a refreshing drink in your own kitchen!
"Good Morning America" is featuring Hawaiian recipes in honor of our 2017 Summer Concert Series sponsored by King's Hawaiian.
Ingredients
1-liter coconut water
1 pineapple
1/2 cup sugar
2 lemongrass stalks
1/3 inch ginger root
1/2 Hawaiian chili pepper
Cooking Directions
Bring coconut water to a boil. Let reduce about 1/4 of the way before adding chili, crushed lemongrass stalk and ginger root.
Let it reduce by half. Add sugar and dissolve. After fully dissolved, strain and let cool in the refrigerator for about an hour.
Skin and core pineapple. Reserve about 8-inch chunks for garnish. If you have a juicer, then juice pineapple. If not, cut pineapples into 1-inch by 1-inch pieces and blend with a little bit of water to get it going. Cool in refrigerator for about an hour. Pulp will separate from juice so you can skim off the amount desired.
Add equal parts of each coconut water and pineapple juice to shaker, then mix and strain into a martini glass.
Garnish with skewered pineapple chunk.
Recipe courtesy Roy Yamaguchi.
Recipe Summary
Main Ingredients: coconut water, pineapple, sugar, lemongrass, chili pepper, ginger root
Course: Drinks