Hershey's Double Kisses Truffles
Perfect for the Chocolate Lover in Your Family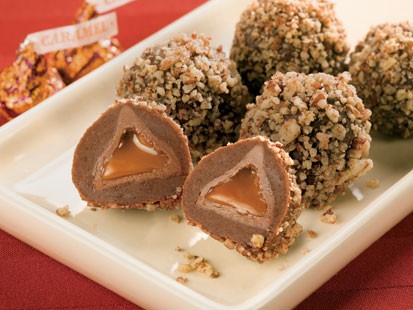 From the kitchen of Hershey's
Try Hershey's double Kisses truffles recipe to curb your chocolate craving. For more recipes from Hershey's, click here.
Ingredients
28 HERSHEY'S KISSES Brand Milk Chocolates
2 tablespoons plus 2 teaspoons whipping cream
10 HERSHEY'S KISSES Brand Milk Chocolates filled with Caramel
1 cup ground pecans
Cooking Directions
Remove wrappers from milk chocolates. Place milk chocolates and whipping cream in medium microwave-safe bowl. Microwave at MEDIUM (50%) 1 minute; stir. If necessary, microwave at MEDIUM 15 seconds at a time, stirring after each heating, until chocolates are melted and mixture is smooth when stirred. Cover; refrigerate 4 to 6 hours or until firm.
Remove wrappers from caramel filled milk chocolates. Using about 1 tablespoon milk chocolate mixture for each truffle, shape chocolate around each caramel chocolate piece; roll in hand to make ball. (Be sure to cover each chocolate piece completely.) Roll in pecans; refrigerate until ready to serve. For best chocolate flavor, allow truffles to soften at room temperture about 5 minutes before eating. 10 truffles.
Note: Recipe may be multiplied.
Recipe Summary
Main Ingredients: cream, milk, chocolate
Course: Dessert
More Info: Kid Friendly