Hershey's Hugs and Kisses Candies Chocolate Cake
A Chocolatey Indulgence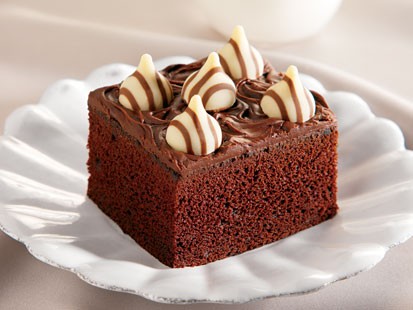 From the kitchen of Hershey's
For more recipes from Hershey's, click here.
Ingredients
3/4 cup (1-1/2 sticks) butter or margarine, softened
1-3/4 cups sugar
2 eggs
1 teaspoon vanilla extract
2 cups all-purpose flour
3/4 cup HERSHEY'S Cocoa or HERSHEY'S Dutch Processed Cocoa
1-1/4 teaspoons baking soda
1/2 teaspoon salt
1-1/3 cups water
For the cocoa fudge frosting:
1/2 cup (1 stick) butter or margarine
1/2 cup HERSHEY'S Cocoa or HERSHEY'S SPECIAL DARK Cocoa
3-2/3 cups (1 lb.) powdered sugar
1/3 cup milk, heated
1 teaspoon vanilla extract
HERSHEY'S HUGS Brand Candies and HERSHEY'S KISSES Brand Milk Chocolates
Cooking Directions
Heat oven to 350°F. Grease and flour 13x9x2-inch baking pan.
Beat butter and sugar in large bowl until fluffy. Add eggs and vanilla; beat 1 minute on medium speed of mixer. Stir together flour, cocoa, baking soda and salt; add alternately with water to butter mixture, beating until well blended. Pour batter into prepared pan.
Bake 40 to 45 minutes or until wooden pick inserted in center comes out clean. Cool 10 minutes; remove from pan to wire rack. Cool completely. Frost with COCOA FUDGE FROSTING. Remove wrappers from candies; garnish cake as desired with candies. 12 to 15 servings.
For the cocoa fudge frosting:
Melt butter in small saucepan over low heat; stir in cocoa. Cook, stirring constantly, until mixture thickens slightly. Remove from heat; pour into small mixer bowl. Add powdered sugar alternately with warm milk, beating to spreading consistency. Stir in vanilla. Spread frosting while warm. About 2-1/2 cups frosting.
Recipe courtesy Hershey's.
Recipe Summary
Main Ingredients: butter, sugar, chocolate, eggs
Course: Dessert
More Info: Kid Friendly