Home
>
GMA
>
'GMA' lunch break: Daniel Holzman's honey roasted carrots with prunes, walnuts, and mint
'GMA' lunch break: Daniel Holzman's honey roasted carrots with prunes, walnuts, and mint
As Seen on the 'GMA' Lunch Break Live Stream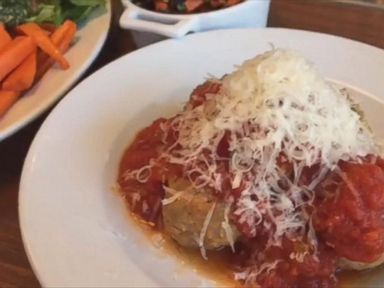 ABC News' Mara Schiavocampo cooks with chef Daniel Holzman at the Meatball Shop in New York City.
From the kitchen of Daniel Holzman
"GMA" caught up with chef Daniel Holzman at his restaurant, The Meatball Shop, in New York City. Here, Holzman shares a delicious and healthy side dish.
Watch the "GMA" Lunch Break live stream on ABCNews.com/live and the GMA Facebook page daily at 12:30 p.m. ET.
Ingredients
For the carrots:
8 large carrots cut into three 1-inch pieces (like thick-cut French fries)
¼ cup olive oil
1 teaspoon salt
½ cup honey
For the topping:
¼ cup chopped pitted prunes
1 tablespoon olive oil
¼ cup chopped fresh mint
¼ cup chopped tasted walnuts
½ teaspoon salt
Squeeze of fresh lemon juice
Cooking Directions
Preheat the oven to 450°F.
1. Toss the carrots with the olive oil in a large bowl, and coat thoroughly. Add the salt and toss to coat.
2. Combine the honey and ½ cup warm water in a small bowl and stir until thoroughly mixed.
Lay the carrots out on a large rimmed baking sheet or roasting pan so that they are evenly spaced and do not touch one another. Drizzle with the honey mixture and put the carrots in the oven to roast.
Roast until all of the water has evaporated and the carrots are soft and beginning to brown, 35 to 40 minutes.
3. While the carrots are roasting, prepare the topping. Mix the prunes and olive oil in a small bowl. Work the mixture so that the prunes are thoroughly coated and not sticking together. Add mint, walnuts, salt, and lemon juice and mix thoroughly to combine.
4. Remove the carrots from the oven and arrange them on a serving dish. Spoon the topping over the carrots and serve.
Recipe courtesy Daniel Holzman
Recipe Summary
Main Ingredients: carrots, olive oil, salt, honey, mint, walnuts
Course: Dinner, Lunch