'GMA' Lunch Break: George Duran's Honey Rosemary Iced Tea Recipe
Try This Tasty Drink!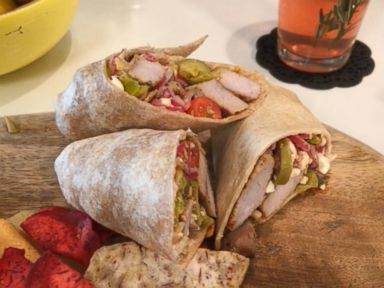 ABC News' Will Ganss stops by the home of chef and entertainer George Duran to learn how to whip up some healthy meals ahead of the Super Bowl.
From the kitchen of George Duran
"GMA" caught up with chef and entertainer George Duran in New York City. Duran, the author of "Take This Dish and Twist It" and the host of TLC's "Ultimate Cake Off," shared his recipe for honey rosemary iced tea.
Watch the "GMA" Lunch Break live stream on ABCNews.com/live and the GMA Facebook page daily at 12:30 p.m. ET.
Ingredients
10 sprigs fresh rosemary, plus more for garnish
6 cups boiling water
6 Earl Grey tea bags
1 cup sugar
1/2 cup honey
1 cup fresh lemon juice
Cooking Directions
Put the rosemary sprigs in a heat-proof pitcher or bowl and pour over the boiling water.
Let steep for 15 minutes.
Add the tea bags and let steep for 5 more minutes.
Remove the rosemary and tea bags.
Add the sugar, honey, and lemon juice and stir until dissolved.
Let cool, then refrigerate until cold.
Serve in tall glasses filled with ice, garnished with a sprig of rosemary.
Recipe courtesy George Duran.
Recipe Summary
Main Ingredients: honey, lemon juice, earl grey tea bags
Course: Drinks