Marcus Samuelsson's Hummus with Parsley-Cumin Oil
Great Dip for Pita Chips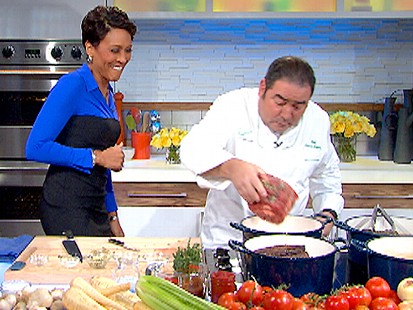 Chef prepares dish from his book, "Sizzling Skillets and Other One-Pot Wonders."
From the kitchen of Marcus Samuelsson
Feel free to mix and match these toppings, meats, and spreads for an easy holiday cocktail party.
Ingredients
For the hummus:
10 garlic cloves, roasted
2 lbs chickpeas, cooked
3/4 cup tahini
1/4 cup fresh lemon juice, or to taste
1/2 cup olive oil, or to taste
Salt, to taste
Pepper, to taste
For the parsley-cumin oil:
4 bunches Parsley, picked
1 tsp cumin, toasted
Olive Oil, as needed
Salt, to taste
Cooking Directions
For the parsley-cumin oil:
In a blender, add parsley and cumin.
Stream in olive oil while blending until the correct consistency is reached.
Cool immediately and season.
For the hummus:
Puree all ingredients in a food processor, add water to adjust consistency. Drizzle with Parlsey-Cumin Oil.
This recipe was styled by chef Karen Pickus for Good Morning America.
Recipe courtesy Marcus Samuelsson.
Recipe Summary
Main Ingredients: garlic cloves, chickpeas, pepper, parsley, olive oil
Course: Appetizer/Starter
More Info: Kid Friendly