Home
>
GMA
>
Recipes Home
>
'Hungry Girl' Lisa Lillien's 200 Calorie or Less Double Trouble Chocolate Trifle
'Hungry Girl' Lisa Lillien's 200 Calorie or Less Double Trouble Chocolate Trifle
From the Book 'Hungry Girl: 200 Under 200'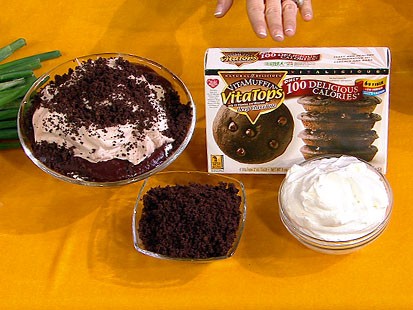 Lisa Lillien prepares recipes from her book, "Hungry Girl: 200 Under 200."
From the kitchen of "Hungry Girl"
|
Being a skinny girl doesn't mean you have to be a hungry girl.
Author Lisa Lillien offers dozens of low-calorie recipes in her new book, "Hungry Girl: 200 Under 200: 200 Recipes Under 200 Calories."
Get a taste of how delicious low cal can be by trying out her Double Trouble Chocolate Trifle recipe below.
Ingredients
4 Vita Tops (any chocolate flavor), thawed
1 2/3 cups Cool Whip Free, thawed, divided
1 cup skim milk
2 tablespoons sugar-free fat-free chocolate instant pudding mix
1 1/2 tablespoons sugar-free chocolate syrup
Cooking Directions
In a mixing bowl, combine skim milk with pudding mix. Whisk until blended and thickened, about 2 minutes. Refrigerate for at least 5 minutes.
In a separate mixing bowl, combine syrup with 1 cup Cool Whip. Mix gently until completely blended. Refrigerate for at least 5 minutes.
Break VitaTops into pieces and place in the blender. Pulse until reduced to crumbs.
Into the bottom of a medium serving bowl, layer 1/4 of the Vita crumbs. Top with half of the pudding.
Spread 2/3 cup Cool Whip over pudding layer. Sprinkle evenly with 2/3 of the remaining Vita crumbs.
Spread the remaining pudding in a layer over the Vita crumbs. Top with the chocolate syrup-Cool Whip mixture. Finally, sprinkle remaining Vita crumbs over the top and dig in!
Secret Ingredients
Vita Tops (any chocolate flavor), Cool Whip Free, sugar-free fat-free chocolate instant pudding mix
Other Recipes That You Might Like