Hungry Girl's Bacon-Cheddar Egg Mug
Make This Breakfast in Under 10 Minutes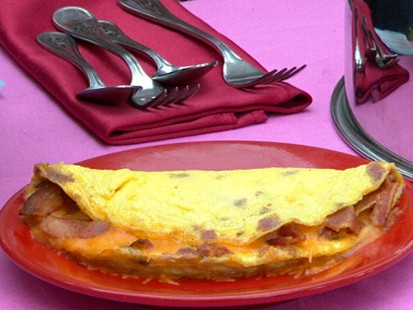 "Hungry Girl" Lisa Lillien reveals her lo-cal, low-fat variations of classic morning meals.
From the kitchen of Lisa Lillien
HG's Bacon-Cheddar Egg Mug (184 calories, 7g fat)

Average 3-egg bacon & cheese omelette (600 calories, 40g fat!)

An average omelette -- not even a huge one - has 600 calories - thanks to butter -- oily cheese and fatty bacon. And that's without toast or potatoes! This one is slimmed down with egg substitute --reduced fat cheese and lighter bacon.

Ingredients
1 slice center-cut bacon or turkey bacon
3/4 cup fat-free liquid egg substitute
3 tbsp. shredded reduced-fat cheddar cheese
Optional topping: ketchup
Cooking Directions
Microwave bacon on a microwave-safe plate for 1 1/2 minutes, or until crisp. In a large microwave-safe mug sprayed with nonstick spray, microwave egg substitute for 1 1/2 minutes. Chop or crumble bacon and stir into egg. Microwave for 45 to 50 seconds, until mostly set. Mix in cheese. Microwave for 20 seconds, or until set, and stir. Enjoy!
MAKES 1 SERVING
Entire recipe: 184 calories, 7g fat, 643mg sodium, 3.5g carbs, 0g fiber, 1.5g sugars, 26g protein
You'll Need: microwave-safe plate, large microwave-safe mug, nonstick spray
Recipe courtesy Lisa Lillien.
This recipe was styled by chef Karen Pickus for Good Morning America.
Recipe Summary
Main Ingredients: bacon, egg, cheddar cheese, ketchup
Course: Breakfast
More Info: Kid Friendly