Hungry Girl's Caramel Apple Cinnamon Buns
A Fall Treat Without the Calories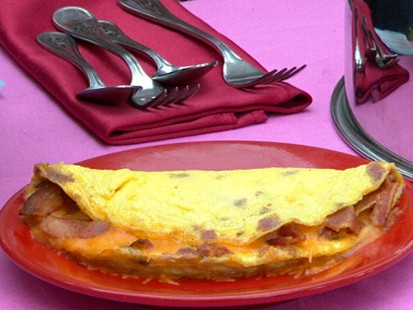 "Hungry Girl" Lisa Lillien reveals her lo-cal, low-fat variations of classic morning meals.
From the kitchen of Lisa Lillien
Caramel Apple Cinnamon Buns (137 calories, 4g fat)
Average SMALL SIZE cinnamon bun (350 calories, 15g fat!)
Ours uses a seamless refrigerated dough sheet you find at the market - granny smith apples - caramel dip... etc...
Ingredients
For the filling:
1 cup finely chopped Granny Smith apple
1/4 cup fat-free or light caramel dip
1 teaspoon cinnamon
dash salt
For the buns:
1 package refrigerated Pillsbury Crescent Recipe Creations
Seamless Dough Sheet
For the icing:
2 tablespoons powdered sugar
2 teaspoons fat-free or light caramel dip
Cooking Directions
You'll Need: baking sheet, nonstick spray, microwave-safe bowl, rolling pin (optional), small bowl
Preheat oven to 350 degrees. Spray a baking sheet with nonstick spray. In a microwave-safe bowl, microwave apple for 1 minute, or until slightly softened. Add remaining filling ingredients and thoroughly stir.
Unroll dough on a dry surface with the long sides on the left and right. Roll or stretch into a large rectangle of even thickness. Evenly spread filling onto dough, leaving a 1-inch border. Tightly roll up dough into a log. Pinch the long seam to seal. Turn log so the seam side is down. Cut widthwise into 8 equally sized buns, and lay buns on the baking sheet, swirl sides up.
Bake until golden brown, 12 to 15 minutes. In a small bowl, mix powdered sugar with 1 teaspoon cold water until dissolved. Thoroughly mix in caramel dip. Drizzle over buns and enjoy!
1/8th of recipe (1 bun): 137 calories, 4g fat, 280mg sodium, 24g carbs, 0.5g fiber, 10.5g sugars, 1.5g protein
Recipe courtesy Lisa Lillien.
This recipe was styled by chef Karen Pickus for Good Morning America.
Recipe Summary
Main Ingredients: apple, caramel dip, powdered sugar
Course: Breakfast, Brunch
More Info: Kid Friendly