Hungry Girl's Cinnalicious French Toast Nuggets
Sweet French Toast Bites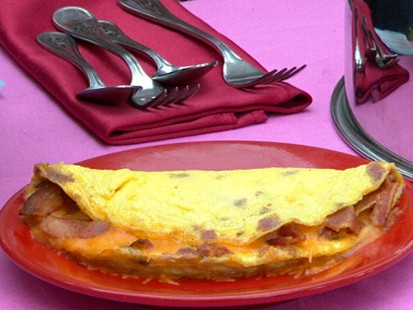 "Hungry Girl" Lisa Lillien reveals her lo-cal, low-fat variations of classic morning meals.
From the kitchen of Lisa Lillien
HG's Cinnalicious French Toast Nuggets (145 calories, 4g fat)

Average order French toast sticks (530 calories, 24g fat!)

French toast has way more calories than pancakes - thick bread- - too much egg -- butter, sugar, etc... HG French toast nuggets are made with light hot dog buns - cinnamon, egg substitute, vanilla -- sweetener -- have tons of flavor...
Ingredients
1/4 cup fat-free liquid egg substitute
1/4 tsp. vanilla extract
1/4 tsp. cinnamon
1 light hot dog bun
2 tsp. light whipped butter or light buttery spread
Optional toppings: powdered sugar, sugar-free pancake syrup
Cooking Directions
In a wide bowl, mix egg substitute, vanilla extract, and cinnamon. Split bun in half. Cut each half widthwise into4 pieces, leaving you with 8 "nuggets." Bring a skillet sprayed with nonstick spray to medium-high heat. Add butter and let it coat the bottom. Meanwhile, coat nuggets on all sides with egg mixture. Cook nuggets, flipping occasionally, until golden brown on all sides, 3 to 4 minutes. Enjoy!
Can't find 80-calorie light buns? Just get the lowest-calorie hot dog buns you see and adjust the calorie count accordingly. Bonus points if they have fiber!
Entire recipe (8 nuggets): 145 calories, 4g fat, 360mg sodium, 19.5g carbs, 5g fiber, 3g sugars, 10g protein
Recipe courtesy Lisa Lillien.
This recipe was styled by chef Karen Pickus for Good Morning America.
Recipe Summary
Main Ingredients: egg substitute, vanilla extract, cinnamon, powdered sugar
Course: Breakfast
More Info: Low Calorie