Pillsbury's Ice Cream-Filled Glazed Doughnuts
Killer Combo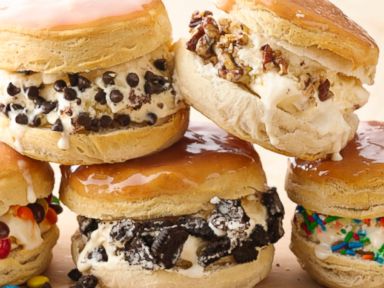 From the kitchen of Pillsbury
Hack the hybrid food trend at home with Pillsbury's innovative recipe for Ice Cream-Filled Glazed Doughnuts.
Ingredients
Glaze
1 tablespoon butter
1/4 cup apple or seedless strawberry jelly
1/2 cup powdered sugar
2 to 3 tablespoons hot water
Doughnuts and Ice Cream
1 can (16.3 oz) Pillsbury Grands! Flaky Layers refrigerated biscuits
3 cups vanilla ice cream, softened slightly
Crushed candies and sprinkles, if desired
Cooking Directions
Heat oven to 375 degrees F. In 1-quart saucepan, melt butter over low heat. Add jelly; stir until melted. Transfer to small bowl. Stir in powdered sugar with whisk until smooth. Stir in enough hot water until glaze is thin. Set aside.
Bake biscuits as directed on can. Immediately dip into strawberry glaze; place on cooling rack over cooking parchment paper. Sprinkle with crushed candies. Cool completely, about 20 minutes, to allow glaze to set.
In large bowl, stir ice cream to soften. Cut each biscuit in half horizontally. Place about 1/3 cup ice cream on bottom half of each; top with top half. Place in freezer about 30 minutes for ice cream to freeze.
Note: Try apricot, blueberry or another favorite flavor jelly.
Note: If you only have jam that contains fruit pieces, strain the warm jam mixture to remove any fruit before adding the powdered sugar.
Recipe Summary
Main Ingredients: jelly, powdered sugar, pillsbury grands, vanilla ice cream
Course: Snack, Dessert