Kellyann Petrucci's Italian Beef Bone Broth Recipe
This Soup Makes an Ideal Appetizer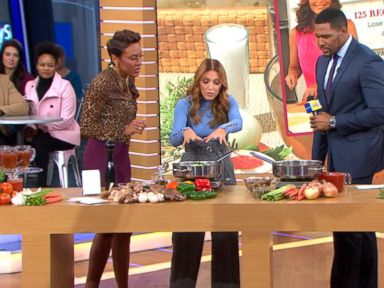 The nutritionist explains the benefits of bone broth for your health and shares some of her recipes.
From the kitchen of Kellyann Petrucci
Kellyann Petrucci, the author of "Dr. Kellyann's Bone Broth Cookbook," shared her recipe for an Italian beef bone broth soup on "Good Morning America."
"Basil, garlic, and tomato sauce make this broth delizioso," Petrucci said. "I like serving it as an appetizer when I have company for dinner."
Ingredients
4 cups (1 quart) Beef Bone Broth (See Recipe here)
1 small clove garlic, smashed
¼ cup no-sugar-added tomato sauce
¼ teaspoon Italian seasoning
Celtic or pink Himalayan salt
Freshly ground black pepper
6 fresh basil leaves, cut into a fine chiffonade
Cooking Directions
In a saucepan, heat the broth over medium heat. Add the garlic, tomato sauce, and Italian seasoning. Reduce the heat to medium-low or low so the broth barely simmers and cook for 5 to 10 minutes.
Remove and discard the garlic. Season with salt and pepper and serve topped with basil.
This recipe is reprinted with permission from "Dr. Kellyann's Bone Broth Cookbook" by Kellyann Petrucci, MS, ND. Copyright (c) 2016 by Dr. Kellyann Petrucci, MS, ND. By permission of Rodale Books. Available wherever books are sold.
Food styling by Karen Pickus for "Good Morning America."
Recipe Summary
Main Ingredients: beef bone broth, garlic, tomato sauce, italian seasoning
Course: Appetizer/Starter, Dinner, Soup