Joey Fatone's Italian Rice Balls
Simple, but packs so much punch!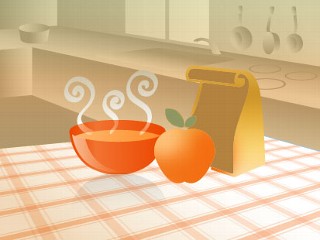 From the kitchen of Joey Fatone
|
"Dancing with the Stars" runner-up and former 'N SYNC band member Joey Fatone is strapping on an apron for his new show, "My Family Recipe Rocks!" on the Live Well Network. Check out his mom's recipe for Italian rice balls.
Ingredients
2 eggs
1/3 cup grated Parmesan cheese
1 tablespoon dried parsley
1/4 teaspoon freshly ground black pepper
2 teaspoons salt, divided
1 quart water
1 cup of uncooked white rice
1 1/2 cups dried breadcrumbs
2 cups olive oil
Cooking Directions
In a medium bowl, whisk together eggs, cheese, parsley, pepper and 1 teaspoon salt. Cover mixture and refrigerate.
Pour water and remaining teaspoon salt into a large saucepan and bring to a boil. Stir in the rice and reduce heat to low. Cook rice until water is almost absorbed, about 10-12 minutes, stirring frequently.
Remove saucepan from heat and slowly pour in egg mixture, stirring rapidly to prevent egg from scrambling. Allow rice mixture to cool in refrigerator for 1 hour.
Pour breadcrumbs into a pile on one end of a cutting board. Dampen hands and roll rice mixture into 1-inch balls. Coat each one with breadcrumbs.
In a small deep skillet, heat olive oil to 350F (make sure the oil will cover the rice balls). Fry rice balls 6 at a time, turning as needed to ensure even browning. Drain on paper towels and serve warm.
Recipe courtesy Phyllis Fatone.
This recipe was styled by chef Karen Pickus for "Good Morning America."
Other Recipes That You Might Like