Ivy Larson's California Turkey Burgers
Recipe Courtesy Ivy Larson, Adapted From 'The Whole Foods Diet Cookbook'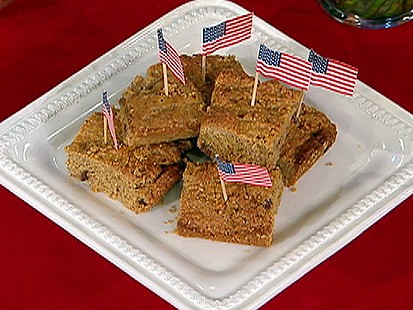 Barbecue meals that won't bust your diet.
From the kitchen of Ivy Larson
|
Ingredients
1 tablespoon extra-virgin olive oil (or avocado oil)
1/4 cup red onion, finely chopped
1/2 Granny Smith apple, peeled and diced
1 pound extra-lean organic free-range turkey
3 tablespoons green olives (look for large Greek olives marinated in extra virgin olive oil; these are available from a supermarket olive bar), minced
2 tablespoons cilantro, finely chopped
1 teaspoon Dijon mustard
3 tablespoons sun-dried tomatoes packed in extra virgin olive oil, minced
1/2 teaspoon unrefined sea salt (plus more to taste)
2 Hass avocados, large
3 cloves garlic, crushed
1 tablespoon lime juice
Pinch cayenne pepper
4 sprouted whole-grain buns, toasted
Thick tomato slices
Cooking Directions
Heat oil in a small skillet over medium-high heat; add the onion and saute 2–3 minutes.
Add the apple and saute for an additional 2 minutes.
Place the sauteed onions and apple in a large mixing bowl.
Add ground turkey, olives, cilantro, mustard, tomatoes, and measured salt.
Using clean hands, thoroughly mix ingredients together.
Shape into 41/2-inch-thick burgers.
Place burgers on a large platter and refrigerate for 2 hours.
Scoop the avocado pulp into a medium-size mixing bowl. Add garlic and lime juice. Mash ingredients together with the back of a fork. Season with salt and cayenne pepper. Set avocado butter aside.
Remove turkey burgers from the refrigerator and season lightly with salt.
Lightly oil a charcoal grill (or large skillet) and heat over medium-high.
Add the burgers to the grill and cook for about 7 minutes each side, or until meat is cooked through and no longer pink. Let burgers sit for 5 minutes. Brush buns with oil and lightly toast on the grill.
Serve burgers with avocado butter and tomato slices.
Other Recipes That You Might Like