'GMA' lunch break: Jack's Wife Freda peri peri chicken recipe
Try this delicious chicken dish at home!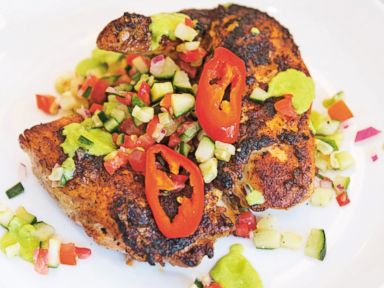 From the kitchen of Jack's Wife Freda Chef Julia Jaksic
Jack's Wife Freda chef Julia Jaksic shared the restaurant's most popular main course poultry dish with "GMA" in New York City. Try the dry-rubbed peri peri chicken recipe in your kitchen!
Watch the "GMA" Lunch Break live stream on ABCNews.com/live and the GMA Facebook page every Monday at 12:30 p.m. ET.
Ingredients
Peri Peri Spice Rub
1 tablespoon ground arbol chili
5 tablespoons Hungarian paprika
3 tablespoons light brown sugar
1 tablespoon kosher salt
1 teaspoon ground cumin
1/2 teaspoon ground allspice
Pinch of ground cloves
Additional Ingredients
1 3-pound whole chicken
1/4 cup olive oil
Kosher salt
1/4 cup Peri Peri Spice
Cooking Directions
Combine all the ingredients for the peri peri spice rub in a small bowl, mixing well so that the brown sugar is evenly distributed.
Begin by halving the chicken. Starting at the breast, cut on the breastbone until you hit the plate, then slide your knife under the breast meat, cutting all the way to the wing. Cut under the wing so that it is attached to the breast. Continue cutting down the backbone until you reach the thigh bone. Once here, cut the point in between the thigh and the backbone to release the leg and continue cutting down toward the tail bone to release the chicken half. Once both the halves are separated you will be left with the carcass, which is excellent for making stock or our Matzo Ball Soup.
Rub the chicken halves with the olive oil and liberally salt each side. Thoroughly coat each side of the chicken with Peri Peri Spice. Let the seasoned chicken sit in the refrigerator for at least one hour, although overnight is best.
Preheat a grill. Grill on medium heat for five minutes over the hottest section of the grill to nicely brown each side. Move the chicken halves to the back or off to the side out of the direct heat to continue cooking for another 20 to 25 minutes, or until the juices run clear. You can also bake the chicken at 375 degrees for 30 to 40 minutes, depending on the size of the bird.
Reprinted with courtesy of From JACK'S WIFE FREDA: Cooking from New York's West Village by Maya and Dean Jankelowitz. Recipes by Julia Jaksic. Published by Blue Rider Press, an imprint of Penguin Publishing Group, a division of Penguin Random House LLC.
Recipe Summary
Main Ingredients: chicken, arbol chili, cumin, paprika
Course: Main Course